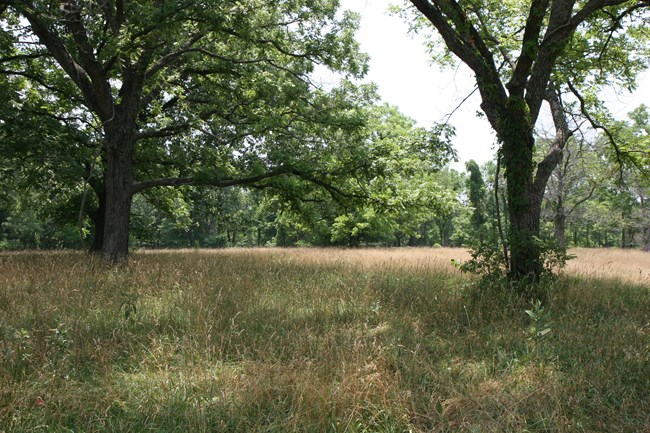 Leetown was one of the earliest settlements in Northwest Arkansas. The town sat in the middle of a broad, wooded plateau bordered by Pea Vine Ridge to the north and the Little Sugar Creek to the south.
Leetown was founded in the 1840s by John W. Lee, a farmer from Kentucky. Surgeon D.S. McGugin, of the 3rd Iowa Cavalry, described the hamlet in his after-battle report. McGugin stated that Leetown consisted of "some fifteen or twenty houses, frame and log, and but one story in height." He described a "small store", believed to have been owned by Lee, as "one story and a half high, about thirty feet long, and twenty feet wide." Surgeon McGugin noted that, "In all, the windows were few and very small, admitting little light and an insufficiency of air, even when the sash frames were entirely removed.....They contained but few of the ordinary domestic appliances, and were wholly wanting in the usual necessaries found in more settled regions."
Directly north of Leetown lay two large farms, owned by George Sturdy and Wiley Foster. To the east of Leetown, on the south side of the Telegraph Road, sat Lewis Pratt's general store, one of three known to be in the region. During the battle, General Samuel Curtis, the Federal Army's commander, used Pratt's Store as his headquarters.