Directions
Physical Address:
Pea Ridge National Military Park
15930 E Hwy 62
Garfield, AR 72732
New Park Entrance
Due to the construction that has moved Highway 62 just south of the park boundary, a new park entrance road has been paved and you can no longer see the Visitor Center from the highway. The new entrance is 1.3 miles east of the intersection of Hwy 62 and Hwy 72.
Plane

Northwest Arkansas Regional Airport (XNA) serves the NW Arkansas area and is 20 miles southwest of the park. US Airways, Northwest, Delta, United, Continental and American Airlines serve this facility. Rental cars are available at the airport. The park can be reached by traveling from XNA to AR Highway 12 to Bentonville and I-49, then north one exit to US 62 East and following the signs to the park.

Car

From the Northeast (Republic, MO): Take US 60 to Monett, MO, then south on MO 37 to Gateway, AR. Go west on US 62 to the new park entrance.
From the North (Joplin, MO): Take US 71 south until the Pea Ridge Exit and then go left on AR 72. At the town of Pea Ridge follow 72 to US 62. Turn left on US 62 and drive 1.3 miles to the Park.
From the South (Ft. Smith, AR): Take I-49 north. Go through Fayetteville, AR. Continue north on I-49 to the US 62 exit and follow signs to the park.
From the West (Tulsa, OK): Take the Cherokee Turnpike to US 412 to Siloam Springs and Springdale, AR. Take I-49 north to US 62 East and follow signs to the park.

Public Transportation

There is no public transportation to the park.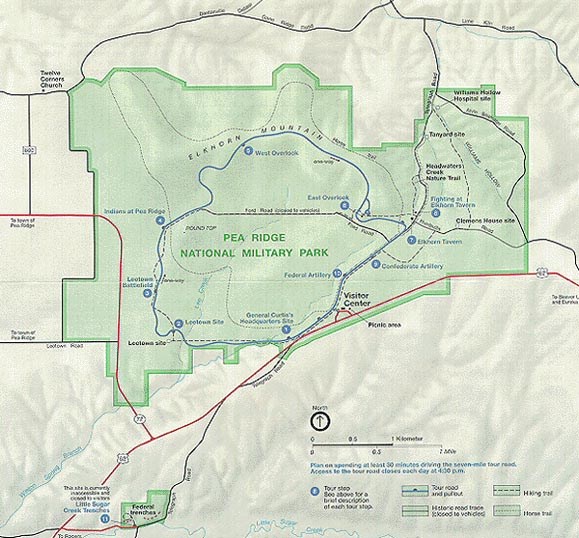 Last updated: July 31, 2021