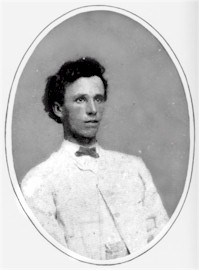 Private Vinson Holman enlisted in Company C, 9th Regiment, Iowa Volunteer Infantry on August 23, 1861. For Holman and his comrades of the "Iowa 9th", Pea Ridge was their first taste of battle. The following excerpts are from his diary, and describe the soldier's experience of the wounded on the battlefield, and the pain felt by all who went through the conflict.
March 7, 1862: Isaac Arwine was wounded very bad in the Sholder. the ball entered the right sholder and lodged in the left sholder. now at present he is in very bad misery and is thought that he wont live. he said he thought he was a dead man.
March 9, 1862: I am still in Camp waiting on Arwine and the Boys that is wounded. There is any amount of legs, arms, hands lying around in Damp that had to be cut off on account of thair bones being broken. the Doctors are taking off arms, and legs and hands evry day. it is nothing to see them cut a mans arm off or a leg. I hope to God that I wont have to witness the same again. it is horable to think of.
March 11, 1862: The wounded has nothing to ly in but leaves and rocks and nothing to eat but some Buisket made with water and some coffee without any cream.
March 12, 1862: the Doctors are stil taken legs and Arms off everyday. there is no excitement. Arwine is in great misery and isnt expected to live.
March 13, 1862: this morning is very warm day and Arwine very bad. he was very bad all night and to day about eleven oclock Arwine died. we laid him on a hard board out of doors and Buried him about three oclock. We put a cople of Blankets around him and put him in a big grave and covered him up. it looks hard but cant be helped. there wasent no Man that suffered any more. while he lived his pain was so great that it gave him the lock jaw. he was in his rite mind all the while. half of his breath cam out of the wound on his back. he smelt awful. it was enough to make any bady sick to be around him. He wanted the Doctor to give him something to ease him and put him to sleep so he would never wake up again. he said he was sorry that he could not get home once more. but he said it was the fate of War and his time has come and he must go.
March 25, 1862: only last night we discarded our close and found out that the Hospittle was full of Body lice. they had got on most of us. I hear every Hospittle in town are full of them. how they got here God only knows. I don't
Private Isaac Arwine is buried in Section 2, Grave 20, in the Fayetteville National Cemetery, Fayetteville, Arkansas.
Private Vinson Holman, Company C, 9th Iowa Volunteers, died of jaundice December 7, 1862. He was 20 years old.