General McIntosh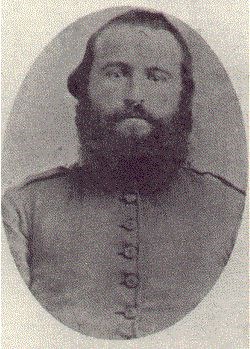 BRIGADIER GENERAL JAMES MCINTOSH
Commander, McIntosh's Cavalry Brigade
Born in 1828, McIntosh, a native of Florida, was the son of an Army Colonel killed in the Mexican War. He studied at West Point, but was a poor student, graduating last in the Class of 1849. After graduation, he served in the cavalry on the frontier. When war broke out, he was part of the garrison at Fort Smith, Arkansas. He immediately resigned his commission and joined the Confederacy where he was commissioned a Colonel. He was given command of the 2nd Arkansas Mounted Rifles and later command of General McCulloch's cavalry forces.
Although he was courageous and daring, McIntosh was also impulsive and reckless, preferring to lead his men from the front instead of concentrating on the duties of a brigade commander. When McCulloch was killed on the first day of the battle, command of the division was thrust upon him. He immediately advanced toward the Union line with his former regiment, the 2nd Arkansas Mounted Rifles.
In a brief exchange of musketry between the 2nd Arkansas and the skirmishers of the 36th Illinois, McIntosh was killed, less than 15 minutes after McCulloch and in nearly the same spot. It is unsure whether McIntosh was trying to scout the Federal lines or if he was trying to recover McCulloch's body. Since he was killed only minutes after taking command of the division, it is uncertain how well suited he was for such a high-ranking position.
Last updated: April 10, 2015