Colonel Stand Watie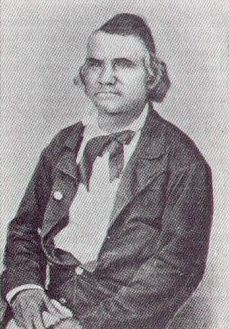 COLONEL STAND WATIE
Commander, 2nd Cherokee Mounted Rifles
Stand Watie was born near present-day Rome, Georgia in 1806 into the rich, landholding Ridge / Watie family. His Cherokee name was De-ga-ta-ga, or "he stands." In 1835, he was one of the signers of the Treaty of New Echota, which gave the traditional Cherokee lands in North Carolina and Georgia to the United States, in exchange for money and land in the Indian Territory (present-day Oklahoma). The Treaty, opposed by nearly 90% of the Cherokee people, split the tribe into two factions - the pro-treaty side, led by Watie's uncle, Major Ridge, and the anti-treaty side, led by John Ross.
From 1838, until the 1846, the two factions fought an internal war, with the anti-treaty faction blaming the Ridges & Waties for the Trail of Tears. On June 22, 1839, Major Ridge, his cousin, John Ridge and his brother, Elias Boudinot were ambushed and murdered by anti-treaty tribesmen. Watie himself escaped death due to a timely warning. After the murders, he became the leader of the pro-treaty faction.
When the Civil War started, Watie sided with the Confederacy and formed the 2nd Cherokee Mounted Rifles, commanding the regiment at Pea Ridge. After the battle, he commanded a brigade of Native American troops. He and his men participated in eighteen battles and major skirmishes as well as a number of smaller skirmishes and raids. In 1864, he was promoted to Brigadier General, the only Native American to be so on either side. In June, 1865, Watie was the last Southern general to surrender to the Federals. He served as a delegate for the negotiations for the Cherokee Reconstruction Treaty in 1866 and then retired from public life. He died in September, 1871.
Last updated: April 10, 2015