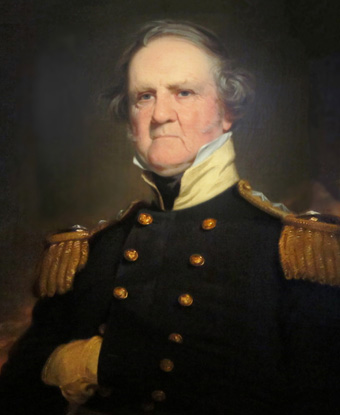 Significance:
Military leader
Place of Birth:
Petersburg, Virginia
Date of Birth:
June 13, 1786
Place of Death:
West Point, New York
Date of Death:
May 29, 1866
Lieutenant General Winfield Scott, the "Grand Old Man of the Army," has the distinction of serving as a general longer than any other man in American history. He is remembered as a brilliant tactician, responsible for the "Anaconda Plan" that allowed the Union forces to reclaim the South during the Civil War, and the author of the Rules and Regulations for the Field Exercise and Maneuvers of Infantry, the primary tactical guidebook in use from 1815 through the Civil War. He is also remembered as a flamboyant man and quick to argue, prompting the less savory nickname: "Old Fuss and Feathers."
Scott started his military career in 1807, taking a break from studying law to enlist in the Virginia militia as a cavalry corporal in response to the Chesapeake-Leopard affair. Scott's short temper and propensity for harsh criticism landed him a suspension not long after enlisting, however this allowed him to continue his legal studies. The next year, Scott's long army career began with his commission as a captain, although his short temper and its consequences were not behind him. In 1810, Scott's open criticism of Brigadier General James Wilkinson prompted Scott to be court martialed and suspended for a year.
When war broke out in 1812, Scott was presented with his first opportunity to display his talents. He was promoted to lieutenant colonel and sent to the Canadian front. He planned and executed the successful attack on Fort George and was placed in command there, restoring the pitiful defenses by super-human efforts. Ignominious defeats on the Niagara had taught him the need for exacting military training, a lesson he put to great use at Buffalo where he developed the best units of that war. In July, his brigade drove the enemy in a running fight for 16 miles to Chippewa and bore the brunt of battle at Lundy's Lane, one of the most stubborn and bravely fought contests of the war. His part in the war brought him great honor and he was brevetted a major-general.
Although quick-tempered, he was also known to be a fair man and a pacifier. He was made general-in-chief of the army in 1841, emphasizing professional schooling and encouraging his officers to associate with those of culture and sophistication, stressing that the military must come to represent the best that society has to offer. As Governor of occupied Mexico his rule was so remarkably humane, a delegation of Mexicans offered him the dictatorship. During the occupation, he sent revenues home to establish the first Soldier's Home for retired veterans. At the conclusion of the war in 1848, Congress designated him the first lieutenant-general since George Washington
Last updated: August 23, 2019