William Fuller Hatsel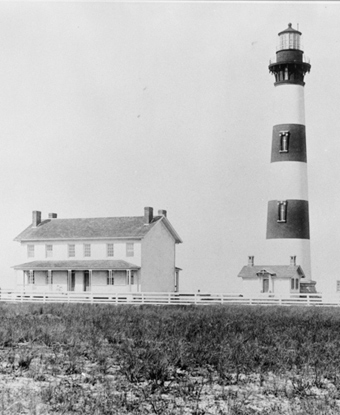 Quick Facts
Significance:

First Primary Keeper of Third Bodie Island Lighthouse

Place of Birth:

Beaufort, NC

Date of Birth:

C. 1827
William Fuller Hatsel was the first primary keeper of the third Bodie Island Lighthouse (still standing today) from 1872 to 1878. Having been a ship's carpenter and an assistant lighthouse keeper at Point of Shoals Lighthouse on the James River in Virginia, Hatsel assumed responsibility of the Bodie Island Lighthouse on October 29, 1872. 
Under William Hatsel in 1872 were three assistant keepers, William Etheridge, Peter Johnston, and Hatsel's wife Rebecca. Rebecca Pigott Hatsel was the only female assistant keeper in Bodie Island history. 
In July 1878, William Hatsel accepted the role of primary keeper of the Cape Lookout Lighthouse.
Last updated: September 28, 2016