William Vandever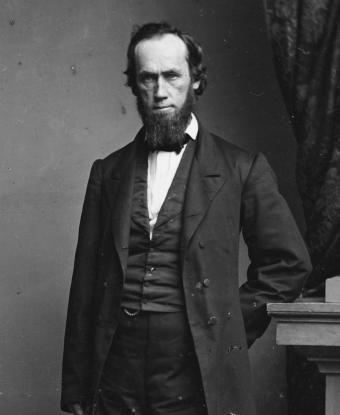 Quick Facts
Significance:

Representative, Major General

Place Of Birth:

Baltimore, MD

Date Of Birth:

March 31, 1817

Place Of Death:

Ventura, CA

Date Of Death:

July 23, 1893

Place Of Burial:

Ventura, CA

Cemetery Name:

Ventura Cemetery
Born in Baltimore, Maryland, William Vandever moved to the Midwest in 1839 and opened a law practice in Dubuque Iowa. Beginning in 1859 through the start of the Civil War, Vandever served two terms as a Republican member of Congress from Iowa. While in Congress, Vandever participated in the Peace Conference of 1861, a last-ditch attempt to peacefully preserve the Union. After the failure of the Conference - and all other negotiations - to prevent the onset of hostilities, he left Washington in September 1861 without resigning his seat in Congress.

Vandever was mustered in as Colonel in the 9th Iowa Infantry. As a result of the Battle of Chalk Bluff, Brig. Gen. Vandever's Army of the Frontier forced Confederate troops under Brig. Gen. John S. Marmaduke to abandon their second offensive into Missouri. Vandever later served as a brigade commander in the siege of Vicksburg and during the Atlanta and Carolinas Campaigns under Maj. Gen. William T. Sherman. By war's end Vandever had risen to the rank of brevet major general.

After the war, Vandever resumed his law practice in Dubuque, Iowa, before accepting an appointment as U.S. Indian inspector by President Grant in 1873. He moved to California in 1884 and again ran for a seat in the U.S. House of Representatives. Vandever served two terms as a congressman from California before retiring in 1891. During his second stint in the House, Vandever sponsored legislation to create both Sequoia and Yosemite National Parks.
Last updated: June 17, 2015