Person
William H. Thompkins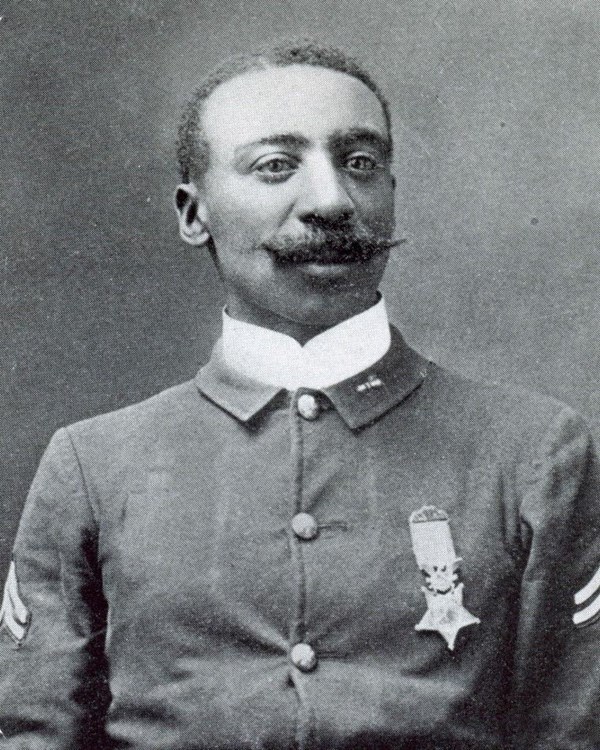 Significance:
Buffalo Soldier
Place of Birth:
Paterson, New Jersey
Date of Birth:
October 3, 1872
Place of Death:
San Francisco, CA
Date of Death:
September 24, 1916
Place of Burial:
San Francisco, CA
Cemetery Name:
San Francisco National Cemetery
William H. Thompkins was born on October 3, 1872 to William L. and Rebecca Tompkins in Paterson, New Jersey. Raised in Newark, Thompkins enlisted in the U.S Army in his birthplace of Paterson. He served in Troop M of the African American 10th Cavalry, commonly known as the Buffalo Soldiers. 
At the start of the Spanish-American War, the U.S. military worked directly with Cuban revolutionaries to fight Spanish forces on the island. In June of 1898, a large expedition was planned to smuggle guns, supplies and Cuban soldiers to support the revelutionaries. The expedition departed Key West, Florida on June 25, and consisted of gunboat U.S.S. Peoria, the steamship Fanita and the U.S. Army Transport Florida.
On June 30, 1898, after several attempts to land safely on Cuba's coastline, they spotted an accessible area clear of reefs and rocks near Tayabacoa, Cuba. The shore and outpost appeared to be abandoned from what they could see. A small landing party of American and Cuban troops aboard the U.S.S. Peoria were dispatched to do reconessaince on the outpost. The whaleboats landed on the sandy shore without issue, but at that moment, a Spanish force consisting of about one hundred entrenched men and some artillery, unleashed a storm of rifle and artillery fire. Their boats were destroyed, leaving the remaining survivors wounded and stranded ashore.
Over several hours, Spanish defense repulsed four rescue attempts. However, upon nightfall, Thompkins and four other soldiers led the daring search and rescue of the wounded troops for the fifth, and final time. They rowed a boat ashore under heavy enemy fire, retrieved the bodies of American and Cuban soldiers, and returned to their transport ship without taking any additional losses. On June 10, 1899, all four privates were awarded the Medal of Honor for their gallantry: Corporal William H. Thompkins, and Privates George H. Wanton, Fitz Lee and Dennis Bell. 
His Medal of Honor citation reads, "[he] voluntarily went ashore in the face of the enemy and aided in the rescue of his wounded comrades. This after several previous attempts at rescue had been frustrated."
Thompkins' story of selfless service is just one of many. The Buffalo Soldiers carried their unit's name with pride despite the racism and adversity they faced. Booker T. Washington referred to them as "ambassadors on the front lines of war and visibility of blackness in American culture."
Not much is known about Thompkins life after the military. He died in San Francisco on September 24, 1916. He is buried at the San Francisco National Cemetery in the Presidio.
Last updated: November 19, 2021