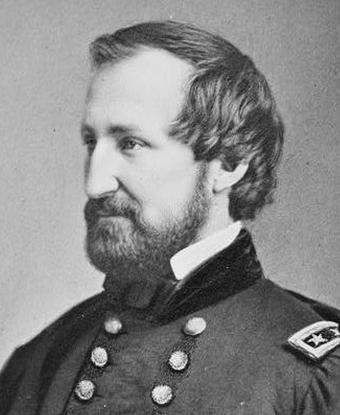 Significance:
Union army commander
Place Of Birth:
Delaware County, OH
Date Of Birth:
September 6, 1819
Place Of Death:
Redondo Beach, CA
Date Of Death:
March 11, 1898
Place Of Burial:
Arlington, VA
Cemetery Name:
Arlington National Cemetery
William Starke Rosecrans was a West Point graduate and professor, engineer, businessman and inventor who began the Civil War as an aide to Major General George B. McClellan. He was briefly colonel of the 23rd Ohio Infantry but was soon promoted, to brigadier general on May 16, 1861. He was largely responsible the Union's early victories in northern Virginia at the Battles of Rich Mountain and Corrick's Ford, but his superior, George McClellan, garnered most of the credit.
When McClellan was summoned to Washington after the First Battle of Manassas, Rosecrans replaced him as head of the Department of the Ohio. In May 1862, Rosecrans was transferred to the Western Theater. There, he assumed command of two divisions of the Army of the Mississippi and saw action at the Battles of Iuka and Corinth. In September 1862, Rosecrans was promoted to major general and a month later assigned command of the Army of the Cumberland. Rosecrans' forces spent the next several months slowly pushing the Confederates out of middle Tennessee.
Then, in September 1863, the Army of the Cumberland confronted Braxton Bragg's army at Chickamauga, and a faulty order issued by Rosecrans resulted in the largest Union defeat of the western war. In October 1863, with his army still besieged in Chattanooga, Rosecrans was removed from his command. He was reassigned to the Department of Missouri where, in the summer of 1864, his forces helped deflect Sterling Price's invasion of Missouri and Kansas. Rosecrans resigned from the Army in 1867, settled in southern California and resumed his business career. From 1868 and 1869, he was Minister to Mexico and in 1881 he was elected to Congress and served two terms.
Last updated: February 12, 2018