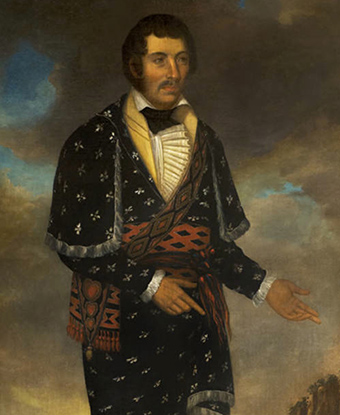 Quick Facts
Place of Birth:

Creek Lower Towns, Present-day Georgia

Date of Birth:

c. 1778

Place of Death:

Carroll County, Georgia

Date of Death:

c. 1825
William McIntosh, or Tustunnuggee Hutkee of Coweta, was a member of the Wind Clan and one of the leading spokesmen for the Creek Lower Towns during the early 1800s. He headed the group of warriors appointed by the Creek National Council known as "Law Menders." These warriors were responsible for apprehending and punishing by beatings, ear cropping, or execution those who had committed crimes against Americans. The actions of McIntosh and his Law Menders in executing a number of Upper Creek warriors responsible for murders and robberies along the Federal Road and home invasions along the Tennessee border directly led to a rebellion by many Creeks against the National Council. That civil war quickly became an American-Creek war after the rebellious Creeks, known as Red Sticks, attacked the hastily constructed Fort Mims in the Mississippi Territory.
During the Creek War, 1813-1814, McIntosh served the Creek National Council first as an emissary to the Cherokee Nation, informing them of Creek troubles. As outright war engulfed the Creek country, McIntosh was appointed as major of a regiment of Creek Indians who fought alongside American forces against Red Stick Creeks, notably at Horseshoe Bend. He later fought with the United States during the First Seminole War.
After the Creek war, McIntosh continued to play a prominent role in the National Council, becoming one of the most powerful and wealthy Creeks of his generation. He owned a sizeable plantation and inn operated by slave labor, as well as other business operations. His prestige as high-ranking member of the Wind Clan from the most powerful Lower Creek Town, a status inherited through his Indian mother, was enhanced by his Scots-American father's family connections to wealthy and politically astute kinsman George McIntosh Troup, who served as the governor of Georgia from 1823 to 1827.  During Troup's term, McIntosh signed the unauthorized Treaty of Indian Springs (1825) which surrendered all Creek lands in Georgia as well as substantial property in Alabama. The National Council pronounced him guilty of treason and sent Law Menders to execute McIntosh and destroy his property.
Last updated: September 14, 2017