Person
William Lloyd Garrison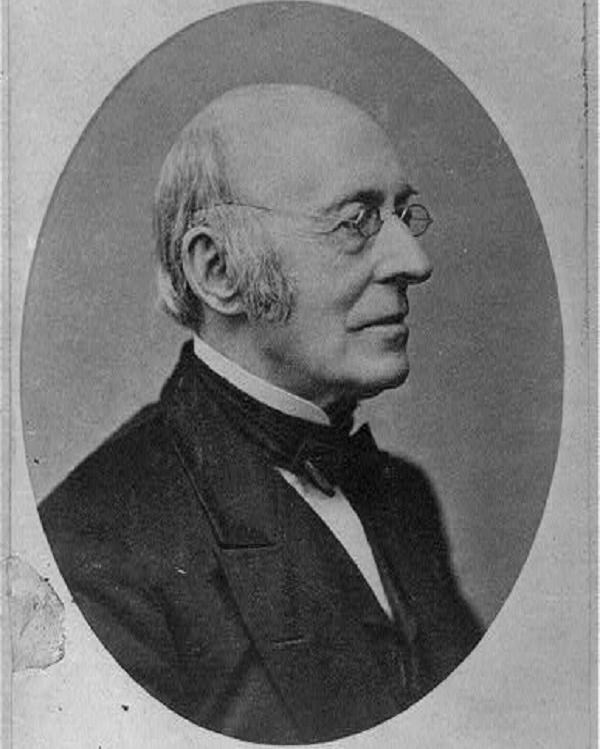 Significance:
Abolitionist, Suffragist, Newspaper editor/writer, social reformer
Place of Birth:
Newburyport, Massachusetts
Date of Birth:
December 10, 1805
Place of Death:
New York, New York
Date of Death:
May 24, 1879
Place of Burial:
Boston, Massachusetts
Cemetery Name:
Forest Hills Cemetery
A printer, newspaper publisher, radical abolitionist, suffragist, civil rights activist William Lloyd Garrison spent his life disturbing the peace of the nation in the cause of justice.
Born on December 10, 1805, Garrison grew up in Newburyport, Massachusetts. In 1808, Garrison's father abandoned his family. By age 11, Garrison had to support and educate himself. At the age of 13, he apprenticed to a printer and newspaper publisher. He had found his life's work.
In 1829, Garrison met antislavery advocate Benjamin Lundy. He invited Garrison to come to Baltimore, Maryland and help publish Lundy's antislavery paper The Genius of Universal Emancipation. On July 4 of that same year, Garrison gave his first antislavery speech. Speaking in Boston's Park Street Church, Garrison strongly denounced the national sin of slavery. He also called for gradual emancipation of the enslaved and supported the American Colonization Society's program of shipping free Blacks to their "homeland" of Africa.1 Most Black Americans opposed gradualism and the largely White led colonization program. They declared that America, not Africa, provided the only homeland they had ever known.
Contact with Black Americans in Boston and Baltimore led Garrison to reject gradualism and colonization. In 1831, back in Boston with his new newspaper The Liberator, Garrison publicly committed himself to Black abolitionists' demands for an immediate uncompensated end to slavery and for political and social equality.2 Despite threats, violence, and financial struggles Garrison continued to hammer away for freedom and equality. He published The Liberator every week for thirty-five years. He gave speeches and helped found antislavery societies. He worked with, inspired (and on occasion offended) activists such as Charles Lenox Remond, Frederick Douglass, Lucy Stone, Abby Kelley Foster, Wendell Phillips, and others. After slavery and The Liberator ended in 1865, he continued to demand equality for Blacks and for women. At a women's suffrage meeting in 1873, he summed up his life's work: "I am still for immediate, unconditional, everlasting emancipation from oppression of everyone on the face of the earth."3
William Lloyd Garrison died on May 24, 1879. He is buried in the Forest Hills Cemetery in Boston's Jamaica Plain neighborhood.
Footnotes
Wendell Phillips Garrison, William Lloyd Garrison, 1805-1879: The Story of His Life Told by His Children, Vol. I: 1805-1835 (New York: The Century Company, 1885), 132, 137.
See William Lloyd Garrison, "To the Public," The Liberator (Boston, MA), January 1, 1831, p. 1.
"New England Woman's Tea Party," The Woman's Journal (Boston, MA), Vol. IV, No. 51, Dec. 20, 1873, p. 405.