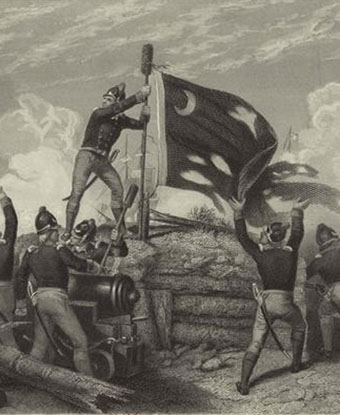 Significance:
Soldier, hero of the Battle of Sullivan's Island
Date of Birth:
circa 1750
Place of Death:
Savannah, Georgia
Date of Death:
October 9, 1779
Place of Burial:
Savannah, Georgia
Cemetery Name:
Savannah Battlefield Memorial Park
Little is known of William Jasper's origins. Traditionally, he has been identified as Irish. On July 7, 1775, in Halifax District, Georgia William Jasper enlisted in the elite grenadier company of the Second South Carolina Regiment. On June 28, 1776 Sergeant Jasper won lasting fame during the Battle of Sullivan's Island. When an enemy shot brought down the fort's flag, Jasper restored the banner while under the fire of the Royal Navy, reattaching it to an artillery sponge staff. President John Rutledge presented him with his personal sword for his bravery and offered him an officer's commission, which Jasper declined.
In 1779, he led dangerous guerrilla raids against British pickets and patrols. At least once, he passed through enemy lines by posing as a deserter. During the Franco-American assault on the British defenses of Savannah on October 9, 1779, Jasper received a mortal wound while rescuing one of his regiment's flags. Jasper left a widow and at least two children. Counties and cities throughout the country bear his name in memory of his service and sacrifice. 
Last updated: December 28, 2019