Person
William Buel Franklin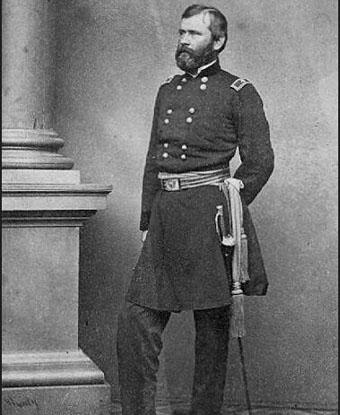 Significance:
Major General commanding VI Corps, Union Army of the Potomac
Date Of Birth:
February 27, 1823
Place Of Death:
Hartford, CT
Date Of Death:
March 08, 1903
Place Of Burial:
York, PA
Cemetery Name:
Prospect Hill Cemetery
From the Peninsula to Maryland: Franklin's role in the summer of 1862
When the Civil War began William Buel Franklin was a natural choice for command and led a brigade at the First Battle of Manassas (Bull Run). Shortly afterwards he was appointed to be a division commander in the newly created Army of the Potomac. In March 1862, when the army was reorganized into corps, Franklin was selected as the commander of VI Corps, which he subsequently led in the Peninsula Campaign.
Franklin had a close relationship with General George McClellan, and it was likely due more to their comradeship, rather than Franklin's skill as a commander, that he rose so quickly through the ranks.
Though he was promoted to Major General on July 4, 1862 he did not participate in the Northern Virginia Campaign. The reasons why he did not are closely tied to McClellan's lack of commitment to supporting Pope's Army of Virginia.
When the Army of the Potomac pulled away from Richmond Franklin's VI Corps sailed from Fort Monroe to Alexandria, only 25 miles from Manassas. On August 27 Halleck extracted a promise from McClellan to immediately advance Sumner's and Franklin's corps to support Pope at Manassas, but later that same day McClellan canceled the orders for Franklin to march. He instead held Franklin in Alexandria for the next two days, even as the Second Battle of Manassas (Bull Run) was being fought.
On the 28th Halleck again ordered McClellan to send Franklin's corps forward to Pope. He also contacted Franklin directly, instructing him to march even if McClellan has not issued the orders. Even so, when he did not receive direct orders from McClellan, Franklin remained in Alexandria.
On the 29th Franklin was once again ordered to march to Pope's assistance early in the morning, and finally began to move, but at McClellan's suggestion, he halted at Annandale, only seven miles from Washington.
Finally, on August 30 Franklin's corps departed Annandale and pushed ahead as far as Centerville, where he encountered the fragments of Pope's beaten army retreating toward Washington. He had arrived just in time to be of no assistance.
Franklin's failure to march forward to support the Army of Virginia elicited charges from Pope that he had failed to obey orders. Nothing ever came of these charges, however, since Pope was removed from command and Franklin's inaction was correctly viewed as a direct result of his deference to McClellan.
During the Maryland Campaign McClellan's decision to delay the departure of troops after he received a copy of Special Orders 191 meant that Franklin was unable to reach the beleaguered garrison at Harpers Ferry before it was captured by Jackson on September 15.
After the garrison fell Franklin diverted from his path toward Harpers Ferry and marched north to join the rest of the Army of the Potomac outside of Sharpsburg where his corps was placed in reserve.
During the fighting at Antietam on September 17, Franklin tried in vain to convince Edwin V. Sumner and McClellan to allow his corps to exploit the weakened position in the Confederate center, as he was perfectly positioned to do so. Believing that the Confederates had far more men than they actually did, McClellan repeatedly refused to commit his reserves. This reserve totaled more than 25,000 men, including Franklin's VI Corps, who remained idle throughout the day. It was a notable lost opportunity.
Last updated: June 17, 2015