Person
William A. Hammond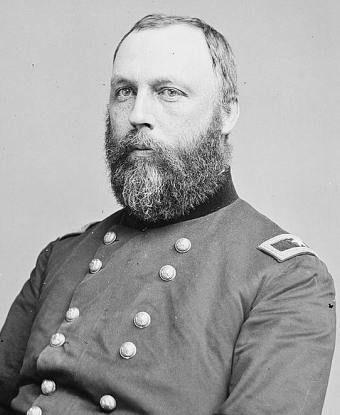 Significance:
Surgeon General of the U.S. Army
Place Of Birth:
Annapolis, MD
Date Of Birth:
August 28, 1828
Place Of Death:
Washington, DC
Date Of Death:
January 5, 1900
Place Of Burial:
Arlington, VA
Cemetery Name:
Arlington National Cemetery
The son of a doctor, William Alexander Hammond knew early on that he wanted to follow in his father's footsteps - he started his medical education at the age of 16 and had an M.D. from the University of the City of New York by the age of 20. And it was only after a year of medical practice that he joined the U.S. Army, becoming Assistant Surgeon in July 1849, and medical director of Fort Riley in Kansas.
He left the military in October 1860 for a chairship at the University of Maryland, only to rejoin in May 1861, shortly after the start of the Civil War. He was soon promoted to camp and hospital inspector, and in April 1862, became the U.S. Army's 11th Surgeon General.
As surgeon general, Hammond was very efficient and sought a number of positive changes including the opening of a permanent hospital corps, a permanent general hospital, and a military medical laboratory, and the National Museum of Health and Medicine, almost all of which were eventually implemented.
Unfortunately, not everyone in the military community approved of the changes, particularly Secretary of War Edwin Stanton. The friction between the two men resulted in Hammond being reassigned to oversee sanitary conditions at the Department of the South in New Orleans, Louisiana. He demanded either his reinstatement as surgeon general or a trial by court-martial. A trial ensued, at least partially motivated by Stanton's personal dislike of Hammond, and when Hammond was questionably found guilty of charges relating to irregularities in the purchase of medical supplies, he was dismissed from the army.
Hammond's medical career did not end with his dismissal from the army in August 1864, however. He went on to teach at several medical schools, co-establish the American Neurological Foundation, and found a sanatorium in Washington, D.C. He also campaigned to have the military charges against him dropped and in 1879 was restored to the army's retired list of personnel with the grade of brigadier general, although without any pay or allowances.
He died in 1900 at the age of 72, and is was interred at Arlington National Cemetery.
Last updated: June 17, 2015