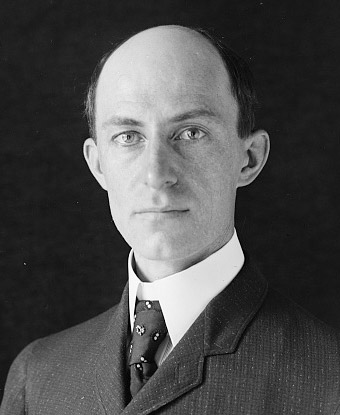 Place of Birth:
Millville, Indiana
Date of Birth:
April 16, 1867
Place of Death:
Dayton, Ohio
Date of Death:
May 30, 1912
Place of Burial:
Dayton, Ohio
Cemetery Name:
Woodland Cemetery
Wilbur Wright, along with his brother Orville, achieved international fame by designing, building, and flying the first airplane. Their contributions to aviation remain unparalleled.
Family Life
Wilbur was born to Milton and Susan Wright on April 16, 1867 in Millville, Indiana. The third child of seven, two of his younger siblings would not survive infancy. He had two older brothers, Reuchlin and Lorin, and later two younger siblings, Orville and Katharine. Their father Milton, a bishop in the United Brethren Church, moved the family to Dayton, Ohio.
Wilbur was always close with his younger brother, Orville. Wilbur, Orville, and their other siblings knew they were fortunate to grow up in a loving home with parents that encouraged curiosity and intellectual development through reading, problem solving, and experimentation.
Education
Wilbur was a good student in school; math and science were his favorite subjects. Wilbur, along with Orville, excelled in math and was very mechanically inclined. Before Wilbur could graduate high school, the family moved from Indiana to Dayton. After they moved, his plan was to graduate high school and attend divinity school at Yale University. However, in the winter of 1885-86, while playing "shinny," a type of ice hockey, he was attacked by neighborhood bully Oliver Crook Haugh, who knocked his teeth out with a hockey stick (Haugh would be executed in 1906 for the murders of his own parents and brother). After this injury, Wilbur gave up his formal education, staying home for three years to take care of the household and his sick mother, who died of tuberculosis in 1889. During these years, he continued reading everything available in his father's well-stocked library. Although his formal education did not continue, he and Orville, would eventually receive honorary degrees for inventing the airplane and leading the world into the Age of Flight.
Occupation
As they grew, Wilbur and Orville became closer. Wilbur had become a self-assured and determined young man, excellent at writing and public speaking. The next phase in Wilbur's life began when Orville convinced him to join his printing business. Throughout their early lives, the brothers were involved in a variety of commercial ventures. In 1892 they formed the Wright Cycle Company and designed, manufactured, and sold bicycles. This proved a successful venture, which allowed them spare time for other projects.
Idea of Flight
Wilbur and Orville had been exploring the idea of flight since childhood. In 1878, Milton Wright gave the boys a rubber-band-powered toy, much like a helicopter. Designed by French aeronautical experimenter Alphonse Pénaud, this toy did not simply fall to the ground as expected. Rather it "flew across the room till it struck the ceiling, where it fluttered awhile, and finally sank to the floor." Though the fragile toy soon broke, the brothers were amazed. Soon they were attempting to build their own toy helicopters.
Two events in 1896 solidified the brothers' desire to achieve human flight: the death of Otto Lilienthal, the celebrated glider experimenter, in a flying accident, and the semi-successful unmanned launching of powered models by Samuel Langley. Fortunately, their bicycle business provided the funds for this new pursuit.
Pursuit of First Flight
The designing and manufacturing of bicycles sharpened the brothers' mechanical skills. In their construction of flying machines, Wilbur and Orville often used the same equipment and tools used in repairing bicycles. They conducted many of their scientific experiments in the backroom of their shop; most of the parts used in the first successful airplane were built there.
The Wrights' most focused work in aviation began in 1899, when Wilbur wrote the Smithsonian Institution and requested any literature they had on flying experiments. Dismayed that so many great minds had made so little progress, the brothers realized that they had as much chance as anyone of succeeding. Wilbur took the lead in the early stages of their work to solve the mystery of flight, but Orville was soon drawn in as an equal collaborator. They quickly developed their own theories and began experimenting with human flight.
The Outer Banks of North Carolina, with its steady winds, vast open spaces, high sand dunes, and relative isolation, provided the ideal location for the brothers to begin their large-scale experiments.
After four years of scientific experimentation, they achieved the first successful powered, controlled, heavier-than-air flights in the world on December 17, 1903. Even though Wilbur, age 36, didn't pilot the first flight (Orville was at the helm), he did fly the longest flight of the day at 852 feet in 59 seconds.
The Wright brothers would continue to perfect the art of flying for almost a decade, giving demonstrations both in the United States and abroad, securing patents and manufacturing contracts, all while constantly trying to improve their airplanes.
Wilbur Wright died of typhoid fever on May 30, 1912 at age 45.
Last updated: October 30, 2019