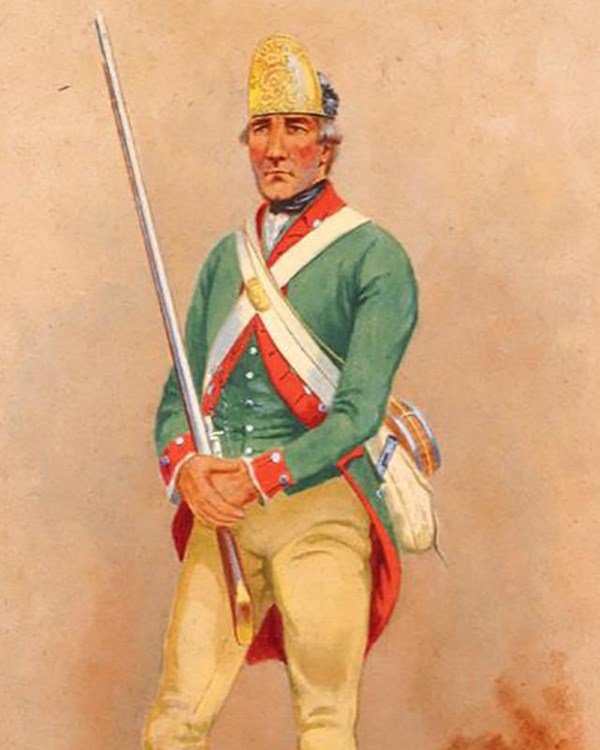 Place of Birth:
Homestead, NY
Place of Death:
The Battle of Johnstown, West Canada Creek, NY
Date of Death:
October 30, 1781
Place of Burial:
unknown/uncertain
Walter Butler was born in 1752 in the Mohawk Valley. He studied law and entered into practice in Albany. Butler's Father, John Butler had been a longtime friend of Sir William Johnson and served under him in the British Indian department.
With the coming of the American Revolution, the Butlers maintained their loyalty to the king. When his father fled to Fort Niagara in 1775, young Butler went with him and received a commission as an Ensign in the 8th Regiment of Foot.
Butler served with the detachment of the 8th Regiment that besieged Fort Stanwix in 1777. During the siege he was given permission to take a small party of British, Loyalist and Indian troops down to German Flatts (modern Herkimer) in an attempt to recruit support for St. Leger's army. With the belief that traveling under a white flag would protect them, Butler made no effort to conceal his activities. While meeting with residents in a local tavern, Butler's group was quickly captured by the American garrison at Fort Dayton. A court martial board headed by Lt. Col. Marinus Willett sentenced Butler and several more of the group to death as spies. Instead of being executed however, Butler was sent to prison in Albany. After prolonged petitioning to be moved from the unhealthy conditions of the Albany prison, Butler's request was finally honored, and he was moved to a private house and closely guarded. Aided by Loyalist sympathizers in the city, Butler eventually escaped on August 21 of 1778 and rejoined his father at Fort Niagara. Once there, he accepted a captain's commission in his father's newly raised regiment of Loyalist rangers.
Butler organized and led the Loyalist/Indian raid on the settlement of Cherry Valley in November of 1778. Whether due to a thirst for revenge or a lack of experience in commanding Indians, Butler separated his forces and gave the Indians free reign through the settlement. This led to many civilian deaths and the raid became known as a "massacre." One of the families killed had been close friends of the Butler's prior to the war, and even Butler's father expressed dismay over his son's conduct during the operation. Walter Butler would be forever blamed for the "Cherry Valley Massacre" and tales of his bloodthirstiness (whether fact or fiction) would grow as the war went on. Walter Butler soon became the most hated man in the Mohawk Valley.
Butler took part in the resistance efforts against the American invasion of Six Nations Indian lands in 1779 and served during Sir John Johnson's raid of the Mohawk and Schoharie Valleys in 1780.
In October of 1781, Butler commanded a party of rangers during the last large-scale Loyalist/ Indian raid into the Mohawk Valley. Attacked by Col. Willett's forces at Johnstown, the Loyalist/Indian force began a retreat through the Adirondack wilderness to reach Canada. Pursued closely by Willet's troops, on October 30, Butler was placed in charge of the rear guard as the main force crossed West Canada Creek. In the brief skirmish between Butler and Willett's forces, Butler was killed, most likely by an Oneida Indian. Butler was also scalped. Willett's sentence of death from 1777 had finally been carried out. One story holds that Butler's regimental coat and officer's insignia was sold in Schenectady and his scalp traded in Albany.
Word of the British surrender at Yorktown reached Albany at the same time as the news of Butler's death. It is said that the report of Butler's death caused even more rejoicing than the news of Yorktown.  
Last updated: October 8, 2022