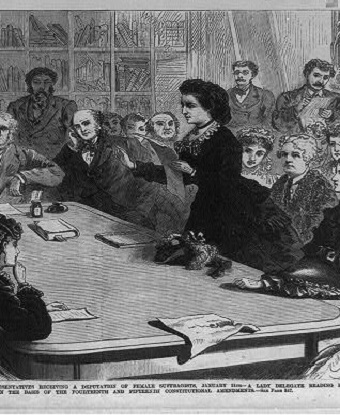 Significance:
Suffragist, Politician, Feminist, Writer
Place of Birth:
Homer, Licking County, Ohio
Date of Birth:
September 23, 1838
Place of Death:
Norton Park in Bredon's Norton, Worcestershire
Date of Death:
June 9, 1927
Place of Burial:
Cremated remains scattered at sea from Newhaven, Sussex, England
In 1872 Ulysses S. Grant was elected for his second term as president. But did you know that during that same election year Victoria Woodhull also ran for president, becoming the first women to do so?
Born in 1838, Woodhull was an activist for women's rights and labor reforms as well as an advocate for free love. Prior to running for president she and her sister Tennessee Claflin were the first women to operate a brokerage firm on Wall Street. They also became one of the first women to publish a newspaper when they founded "Woodhull & Claflin's Weekly," which began publication in New York City in 1870. Woodhull was the candidate for the Equal Rights Party and her running mate was Frederick Douglass, although he never officially accepted the nomination. Woodhull received no electoral votes and even tried to run again in 1884 and 1892. Woodhull would never be elected president but she blazed the trail for women in politics.
Last updated: January 24, 2022