Tom Reed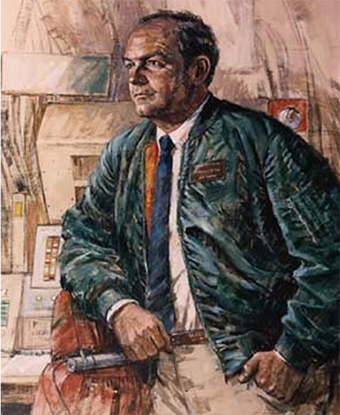 Quick Facts
Significance:

Tom Reed was the first secretary of the Air Force to have served in the United States Air Force.

Place of Birth:

New York City, New York

Date of Birth:

March 1, 1934
Born in New York City on March 1, 1934, Thomas Reed earned a Bachelor of Science degree in mechanical engineering from Cornell University in 1956. As a college student he enrolled in the university's Air Force Reserve Officer Training Corps program and was the highest-ranking officer, cadet colonel, during his senior year. He was designated a distinguished military graduate and received a commission as a second lieutenant in the Air Force when he graduated. Reed began active duty with the Air Force in November 1956, serving until 1959 as technical project officer for the Minuteman reentry vehicle system with the Air Force's Ballistic Missile Division.

In 1959 Reed was assigned to the Lawrence Radiation Laboratory of the University of California, where he engaged in thermonuclear weapons physics. When he was released from Air Force active duty in May 1961, he rejoined the Lawrence Radiation Laboratory as a civilian.

Reed was also active in the political world. He was an organizer for Ronald Reagan's first campaign for governor of California in 1966. He helped finance Governor Reagan's first unsuccessful run for the presidency in 1968. Reed established a national network of political operatives and hired F. Clifton White, the noted political strategist, to guide the effort. Reagan lost to Richard Nixon. Reed managed Reagan's successful gubernatorial re-election campaign in 1970. In 1972, Reed performed as a national operative for the Nixon presidential re-election drive.

Reed joined the Department of Defense as an assistant to the secretary and deputy secretary of defense in 1973, and was appointed director of Telecommunications and Command and Control Systems in February 1974. In 1976-77, Reed served as the 11th Secretary of the Air Force under Gerald Ford and Jimmy Carter.
In 2016, Secretary Reed was interviewed for Minuteman Missile National Historic Site's oral history collection. When discussing nuclear weapons development, he remembered witnessing a nuclear weapons test:
It isn't a flash. It's as though the sun has come to earth. You're wearing all these dark glasses and you stand out there and it falls out of the airplane and there's a count down and suddenly this bright orange. But it's not a flash of white. It's a psychedelic color that all the Haight Ashbury crowd would love because there's these purple things going through it and oranges and reds and you think you wait for a minute or so for the shock wave to arrive and then you take the glasses off and the sun has come to earth. It doesn't go away. The sun has come to the earth, and it is, the explosion is over, but it has heated all the sea water and all this air and everything else. So, it is a huge luminous cloud with these strange colors running through it that just stays there. But that is a huge amount of energy. And it starts getting warmer. You're standing out there. You fire at dawn because you want to shoot when it's dark so you can get the photography because the first microsecond of the explosion, you can see things happen and yet you want the airplanes to be able to fly through the cloud to collect the stuff so you shoot at dawn. So, we're out there and we're cold and its warming up. It gets warmer, and warmer, and warmer. You come to realize the amount of energy that's been released is just amazing, and you stand there for maybe five minutes. 
Last updated: December 28, 2017