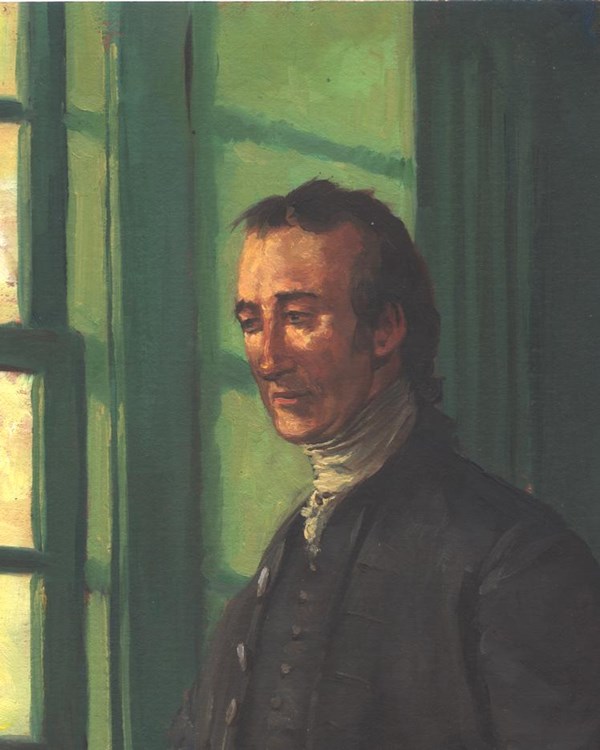 Significance:
Maryland Signer of the Declaration of Independence
Place of Birth:
Port Tobacco, Maryland
Place of Death:
Alexandria, Virginia
Date of Death:
October 5, 1787
Place of Burial:
Thomas Stone National Historic Site
Cemetery Name:
Stone Family Cemetery
"You know my heart wishes for peace upon terms of security and justice to America. But war, anything, is preferable to a surrender of our rights."
Thomas Stone, April 24, 1776
 
Could you willingly make a decision that could cost you, your property, your possessions, or even your life? That was the decision men like Thomas Stone had to make once the decision was made to create the Declaration of Independence. It was not an easy decision to make.
Thomas Stone was like many Americans in 1776. The transition from loyal British subject to American revolutionary was slow and deliberate. Thomas Stone was a man who believed in peace, but when all signs pointed to revolution, he supported the cause of freedom. Like the other 55 signers of the Declaration of Independence, he had much to lose. Pledging their "lives, fortunes, and sacred honor" was not an idle boast to these founding fathers. Stone had a large house, thousands of acres of land, and a young family, along with as many as 30 enslaved African Americans who performed the labor that supplied Stone's wealth. Frequent travel, financial worries, and concerns for his wife's health took a toll on Stone. He died at age 44 and barely lived to see an independent America.
Stone was born in 1743, at Poynton Manor, in Charles County, Maryland. Not a great deal is known of his youth, including the month and day he was born. Like many affluent young men of the day, his education emphasized Greek, Latin, and philosophy. By 1765, Stone finished his legal education and began his practice by circuit riding between Port Tobacco, Frederick, and Annapolis, Maryland. Stone gained a reputation as a cautious, deliberate man.
At the age of 31, Thomas Stone got his start in politics. Stone was chosen to become a member of the Charles County Committee of Correspondence to maintain regular communication with the other colonies. The next year he was chosen to represent Maryland at the Second Continental Congress. For Stone, it was a rapid rise from small-town lawyer to a member of a congress comprised of all the colonies. By the time Congress met in May 1775, fighting at Lexington and Concord, in Massachusetts, had taken place three weeks earlier. The war had begun.
Stone was a lover of peace. Even after the incidents at Lexington and Concord, and later at Bunker Hill, Stone believed that peace could still be reestablished and he was one of the Congressmen who pushed for a letter to be sent to King George III. The letter, which would come to be known as the Olive Branch Petition, informed the king of the continued support of the colonists, but the king refused to read it and declared the colonies to be in rebellion.
By the time Congress reconvened in May 1776, the tone of the war had changed. An attempt to make Canada the 14th colony had failed, and with no sign that the war would end anytime soon, the majority in Congress now favored independence. When Virginia delegate Richard Henry Lee stood and announced on June 7 that, "...these united colonies are, and of right, ought to be, free and independent states, absolved of any and all allegiance with Great Britain." A five-person committee which included Benjamin Franklin, John Adams, and a young Virginian named Thomas Jefferson was appointed to draft a document to cover Lee's proposal.
The draft of the document was completed by June 28 but with a number of Congressmen absent, a meeting to vote on the proposal was set for July 2. On that day, the Declaration of Independence was approved by 12 of the 13 colonies. New York abstained from the vote that date, but would approve by July 15. After two days of editing, the Declaration was approved in its final form on July 4. Stone and most of the other 55 men who would end up signing the document signed on August 2, 1776. The last signature was placed on the document by January 1777.
Stone would serve out the remainder of the 1776 Congressional session, but in 1777 he declined reappointment and instead accepted an appointment to serve in the Maryland Senate in Annapolis.He would stay there for the remainder of his life. Part of the reason for the change was the health of his wife, Margaret. Margaret was bedridden for many of the last years of her life and Stone wanted to be closer to her. His family moved out of their Haberdeventure property in 1783 and went to Annapolis, buying the house known as the Peggy Stewart House.
In June 1787, Margaret died at the age of 36. Thomas was grief-stricken at her loss, even declining to represent Maryland at what would be the Constitutional Convention. Stone did not long survive his wife, dying on October 5, 1787, aged 44, just four months after his wife. They are both buried in the family cemetery located on the property.
Last updated: August 27, 2021