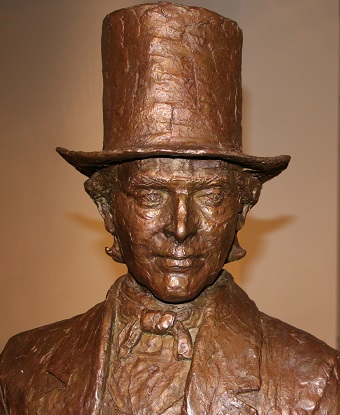 Significance:
Abolitionist and women's rights advocate who helped plan the 1848 Seneca Falls Convention.
Place of Death:
Philadelphia, PA
Thomas M'Clintock (1792-1876) married Mary Ann Wilson in 1820. They had five children: Elizabeth (1821), Mary Ann (1822), Sarah (1824), Charles (1829) and Julia (1831). They lived in Philadelphia for the first 17 years of marriage.
Together they were long-standing active members of the Philadelphia Quaker community and were recognized by their meetings as leaders. In 1827 they joined supporters of Elias Hicks and split from the Orthodox Quakers to become part of a group of Quakers called Hicksites. The Hicksites believed that an individual's faith required social activism and individuals should be guided by their conscience to participate in reform as much as they felt compelled to do.
After the split they found the religious atmosphere in Philadelphia less than friendly. In 1836 Thomas M'Clintock and his entire family moved to Waterloo, New York. The M'Clintocks had family connections to Waterloo. Thomas' niece, Sarah M'Clintock (1807-1842) was the third wife of Richard Hunt They had three children: Richard (1838), Mary M. (1839), and Sarah (1841). After Sarah's death, Richard Hunt married Jane C. Master in 1845.
The family joined the Waterloo Hicksite Quaker community, the Junius Monthly Meeting. In 1848, Thomas M'Clintock co-authored the "Basis of Religious Association," which established him as a leader. In October of 1848 Thomas M'Clintock led a group of several hundred members of the local Hicksite community to form a new Progressive Friends or Friends of Human Progress. Among the group who followed were his wife Mary Ann, Jane and Richard Hunt, Isaac and Amy Post, George and Margaret Pryor.
Late in 1836, Thomas M'Clintock opened a drugstore and bookstore downtown Waterloo. At the store, Thomas, Charles, and Elizabeth circulated antislavery petitions, and in two rooms above the drugstore, held temperance meetings and ran a school. As members of The Free Produce Society, they sold only alternative products made from wool, honey, and molasses as a boycott of slave-made goods.
William Lloyd Garrison wrote to Thomas M'Clintock in 1840:
You have a soul, capable of Embracing the largest idea of humanity …I regard you as one of those whose country is not America, Europe, Asia, or Africa, but the world; and whose countrymen are all the rational creatures of God,…whether their complexion be white, black, red, or any other color…. When this spirit shall universally prevail among men there shall be no more wares, no more slavery, no more injustice.
In 1842 Thomas and Mary Ann M'Clintock became founding members of the Western New York Anti-Slavery Society and helped write its constitution. When he moved to Rochester in 1847, Frederick Douglass, joined Isaac and Amy Post, and the M'Clintocks in this Rochester based chapter of the American Anti-Slavery Society.
On July 20, 1848 at the First Woman's Rights Convention's second day, Thomas M'Clintock participated in a discussion of the Declaration of Sentiments. Later that night he chaired the evening session, read the minutes, and read several passages from Sir William Blackstone.
Last updated: January 5, 2023