Person
Thomas Calhoun Walker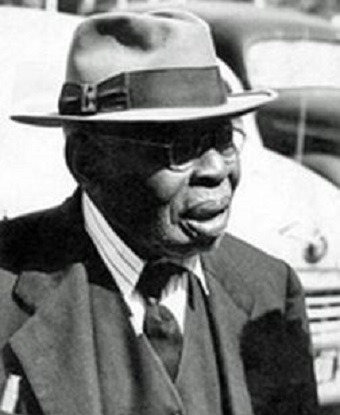 Significance:
teacher, lawyer, and government official
Place of Birth:
Gloucester County, VA
Date of Birth:
June 16, 1862
Place of Death:
Gloucester County, VA
Date of Death:
November 5, 1953
Place of Burial:
Gloucester County, VA
Cemetery Name:
Bethel Baptist Church Cemetery
Thomas Calhoun Walker was a teacher, lawyer, and government official. Known as Virginia's "Black Governor", Calhoun was the first African American to practice law in Gloucester County. He is an American Hero.
Walker was born enslaved on June 16, 1862 in a small cabin. Less than a year later, President Abraham Lincoln signed the Emancipation Proclamation. This was an executive order that freed enslaved African Americans in the southern states. Despite being free, Walker's parents decided to stay and work on plantations around Spring Hill. After Walker's former owner passed away, his son, Lt. William J.  Baytop, took over the plantation. Lt. Baytop and his wife never had children. They convinced Walker's parents to let them keep him when he was a child. The Baytop's treated Walker well, and named him after his father and South Carolina senator, John C. Calhoun. After a few years, Walker's father sent for him and the Baytops returned him to his family.
The Walker family lived near Edge Hill and rented a two-bedroom shed and kitchen. Walker began working when he was ten doing odd jobs to help support his family. Though he wanted an education, Walker's father told him at 10 years old he was too old to learn. By the time he was 13 he could neither read or write. He finally learned to read after a sunday school teacher gave him a spelling book called, "John's Common Book." Walker saved 92 cents and went to Hampton Institute to gain a higher education. However, his limited education and resources did not prepare him to pass the entrance exam.Though he was denied admission, Walker returned to the school to persuade General Samuel J. Armstrong, the school's founder, to make an exception. Armstrong awarded Walker admission under two conditions. Walker had to be given work to do on campus during the day and attend classes at night.
By 1883, Walker was studying law. He did not make much progress until 1887. At that time he began studying under former Confederate General William B. Taliaferro. Taliferro granted Walker much needed access to law books in his private library. That same year, Walker was admitted to the Virginia Bar. From that point on, Walker worked to defend his fellow African Americans. He took on many cases of black men being falsely accused of sexually assaulting white women.
In 1891, at the age of 29, Walker entered politics. He was elected to the Gloucester County Board of Supervisors.  He was appointed Virginia's first black Collector of Customs by President William McKinley in 1896. In 1934, President Roosevelt appointed Walker as the advisor and consultant of Negro affairs for the Virginia Emergency Relief Administration. This appointment earned him the nickname "Black Governor" of Virginia.
In addition to his career in law and politics, Walker was also interested in education. He became a superintendent for Gloucester Negro Schools. He was known for donating money to help build schools for African Americans in the county.
Thomas Calhoun Walker passed away in Gloucester County, Virginia in 1953. He was 91 years old. Walker is associated with the T.C. Walker House. It is located at 1 Main St., Gloucester, Virginia. It was listed on the National Register of Historic Places on December 4, 2009. It was listed on the Virginia Landmarks Register on September 17, 2009.
Last updated: May 7, 2018