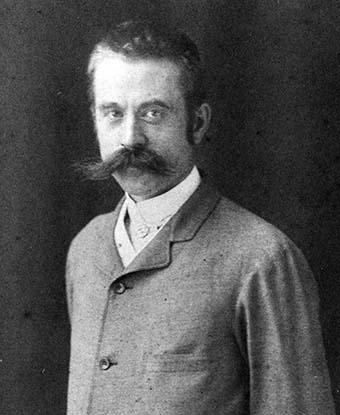 Place of Birth:
New York City
Date of Birth:
November 9, 1853
Place of Death:
New York City
Date of Death:
June 25, 1906
Stanford White was an American architect. He was a partner in the firm McKim, Mead & White, one of the celebrated architectural practices of the late nineteenth century. He designed numerous influential civic, institutional, and religious buildings, as well as notable homes for American capitalists. He is also remembered in popular culture for his notorious murder, the result of a scandalous love affair.
White was born in New York City, the son literary and musical critic Richard Grant White (1822-1885) and Alexina Black Mease (1830-1921). White's father was not wealthy, but socialized within the New York art world that included figures such as the painter John LaFarge, designer Louis Comfort Tiffany, and landscape architect Frederick Law Olmsted.
White had no formal architectural education, but was trained in the office of the influential architect Henry Hobson Richardson (1838-1886), just as Richardson was beginning work on Boston's Trinity Church. In 1879, White formed his own firm in partnership with William Rutherford Mead (1846-1928) and Charles Follen McKim (1847-1909), and together established the most successful and influential architectural practice of its time. In the early years of their practice, the firm specialized in the design of informal summer homes for the wealthy, clustered in the areas of Long Island, the New Jersey shore, and Newport, Rhode Island.
In later years, the firm established a reputation for classical architecture in the tradition of the Italian Renaissance. Among the celebrated examples of this era (sometimes referred to as the American Renaissance), are the Boston Public Library (1887), the Columbia University library (1893), the University Club (1899), the Morgan Library (1899), and Pennsylvania Station (1904-1910; demolished). Many of their residential projects for the American millionaires during this time are also based on classical concepts.
White is known for his imaginative, but gracefully proportioned structures set off by exquisite Italian Renaissance ornamentation. Among his more important commissions in New York City were Madison Square Garden (1891), the Washington Memorial Arch (1891), the New York Herald Building (1892), and Madison Square Presbyterian Church (1906).
Within the firm, White landed the most commissions for private houses—New York city mansions as well as country estate homes located at Long Island, the Hudson Valley, and Newport, Rhode Island. White appreciated the lavish lifestyle of his wealthy clients, and he knew how their houses had to perform—like a fine hotel, or theatrical stage with historical references.
White was a fluent designer. He could draw and illustrated magazine covers. He designed furniture, picture frames, pedestal bases for sculpture. Outgoing and social, he possessed a large circle of friends and acquaintances, many of whom became clients. He extended the firm's architectural services to include interior decoration, dealing in art and antiques, and even planning and designing parties. He possessed a discerning eye for beauty and historical interest. He frequented the antique shops of Europe, procuring antiques and architectural salvage to ornament the homes of his firm's clients. He designed and decorated Fifth Avenue mansions and country homes for the most socially prominent families of American wealth, among them Astors and Vanderbilts.
White's personal life is legendary. He was a tall, flamboyant man with red hair. He impressed others with his wit, charm, and generosity. In 1884, White married Bessie Springs Smith (1862-1950), daughter of a socially prominent Long Island family. But White had an insatiable appetite for young girls. On the night of June 25, 1906, Henry Thaw (1871-1947), a Pittsburgh millionaire with a history of severe mental instability, shot and killed White at Madison Square Garden in a fit of jealousy over a prior affair to Thaw's wife, the beautiful actress, model, and chorus girl Evelyn Nesbit (1884/84-1967). During the following months, in what became known as "The Trial of the Century," White was posthumously subject to a frenzy of popular press invective, which excoriated his character and his professional achievements as an architect. Though many facts of White's life may have been distorted by the press, few of his friends or associates came forward to defend him.
Nevertheless, Stanford White's architecture is remembered everywhere as a testament to a great era in America's built heritage.
Last updated: August 13, 2020