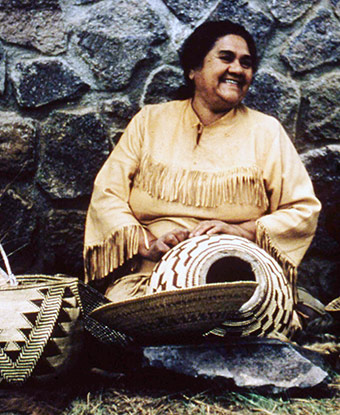 Significance:
Lassen's first woman naturalist
Selena LaMarr was the first woman naturalist at Lassen Volcanic National Park and a member of the Astugewi tribe. During her 20-year service with the park, she demonstrated native lifeways wearing her Astugewi tribal dress as her park uniform.
LaMarr began demonstrations of Atsugewi traditional cultural activities for park visitors outside the Loomis Museum in June of 1952. In her 30-minute program, LeMarr primarily demonstrated basket weaving and acorn pounding. The program proved to be popular, drawing crowds of several dozen visitors each session. Two years later, LaMarr was joined by another cultural demonstrator, Dessie Snooks, also known as Karr-ah-taht-menoo, or "Grasshopper Woman." 
At nearly 80 years old, LeMarr was described by the chief park naturalist as "still bright and charming as she has always been." LaMarr's given name was Boonookoo-eemenorra and so she was affectionately called "Boonie" by park staff. She continued to give demonstrations each summer until 1972, when she fell ill in the spring and passed away that September. After awhile, her nieces Laverna Jenkins and Lillian Snooks continued the demonstrations. 
In 1988, Snooks told a Los Angeles Times reporter, "The old Indian ways of the Atsugewis are dying fast. That is why I give the programs about my people, a little-known Indian tribe, to help perpetuate what is still known about them before all is lost." 
Last updated: March 20, 2019