Person
Arnold Schwarzenegger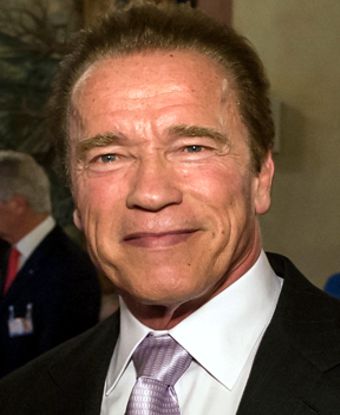 Significance:
He was the 38th Governor of California. Actor in Hollywood.
Place of Birth:
Thal, Austria
Date of Birth:
July 30, 1947
Former Governor, Actor, Businessman, Bodybuilder, (1947–)
Arnold Schwarzenegger was born on July 30, 1947, in Thal, a small village near Graz, Austria. At a young age, he enjoyed watching movies, in particular Reg Parker, a body builder and star in B-level Hercules movies. The films also helped start Schwarzenegger's own obsession with America, and the future he felt awaited him there. Schwarzenegger found his answer in bodybuilding, entering in contests such as Mr. Universe and Mr. Olympia.
In all, Schwarzenegger won five Mr. Universe titles and six Mr. Olympia crowns during his bodybuilding career. After Schwarzenegger immigrated to the United States in 1968, at the age of 21, he helped propel bodybuilding into the mainstream, culminating in the 1977 documentary, Pumping Iron, which tells the tale of Schwarzenegger's defense of his Mr. Olympia crown.  From 1990 to 1993, Arnold promoted fitness as Chairman of the President's Council on Physical Fitness and Sports and later served as Chairman for the California Governor's Council on Physical Fitness and Sports under Governor Pete Wilson. He has been an activist for the Special Olympics. He founded the Inner City Games Foundation (ICG) which provides cultural, educational and community enrichment programming to youth. ICG is active in 15 cities around the country and serves over 250,000 children in over 400 schools countrywide.
After acting in a few small parts, such as Hercules in New York and The Long Goodbye, Schwarzenegger landed a bigger role in the film Stay Hungry and was awarded a Golden Globe. With his intense physical strength and size, Schwarzenegger was a natural for action films. He became a big hit in several popular 1980s action movies, including Conan the Barbarian. Schwarzenegger also starred as a deadly machine from the future in The Terminator and as a mercenary in The Expendables.
Off-screen he continued his remarkable story, joining the Kennedy family by marrying Maria Owings Shriver, daughter of Eunice Kennedy Shriver and her husband R. Sargent Shriver.
In 2003, Schwarzenegger won the California governor's seat in a special recall election. In a state that was mired in severe budget woes, the newly elected Republican governor promised to bring economic stability to his adopted state. As governor, Schwarzenegger worked to improve the state's financial situation, promote new businesses, and protect the environment. In 2006, he was re-elected for a second term. In his second term as governor, Schwarzenegger struggled to help California through difficult financial times. Throughout his political career, Schwarzenegger credited former U.S. President Ronald Reagan as an inspiration. Schwarzenegger said, "I became a citizen of the United States when [Reagan] was president, and he is the first president I voted for as an American citizen. He inspired me and made me even prouder to be a new American."
After leaving office in January 2011, he sought to revive his career in the entertainment industry.  Schwarzenegger starred alongside Jean-Claude Van Damme, Bruce Willis and Sylvester Stallone in the film The Expendables. In August 2012, he reunited with the film's cast for a follow-up film, The Expendables 2. Schwarzenegger rejoined Sylvester Stallone for The Expendables 3 in 2014. He returned to the film franchise that made him a star the following year. Schwarzenegger starred in Terminator Genisys with Jason Clarke and Emilia Clarke.
For a good part of his professional life, Arnold has been an entrepreneur and successful businessman. By the age of 30, Schwarzenegger was a millionaire, well before his career in Hollywood. His financial independence came from his success as a budding entrepreneur with a series of successful business ventures and investments. His current net worth is estimated in the hundreds of millions.
Schwarzenegger has also a solid track record as an environmental activist for reducing greenhouse gases.
Schwarzenegger is a dual Austrian/United States citizen. He holds Austrian citizenship by birth and has held U.S. citizenship since 1983. Shortly before he gained his citizenship, he asked the Austrian authorities to keep his Austrian citizenship, since Austria does not usually allow dual citizenship. His request was granted, and he kept his Austrian citizenship.
Last updated: November 20, 2018