Person
Sarah Osborn Benjamin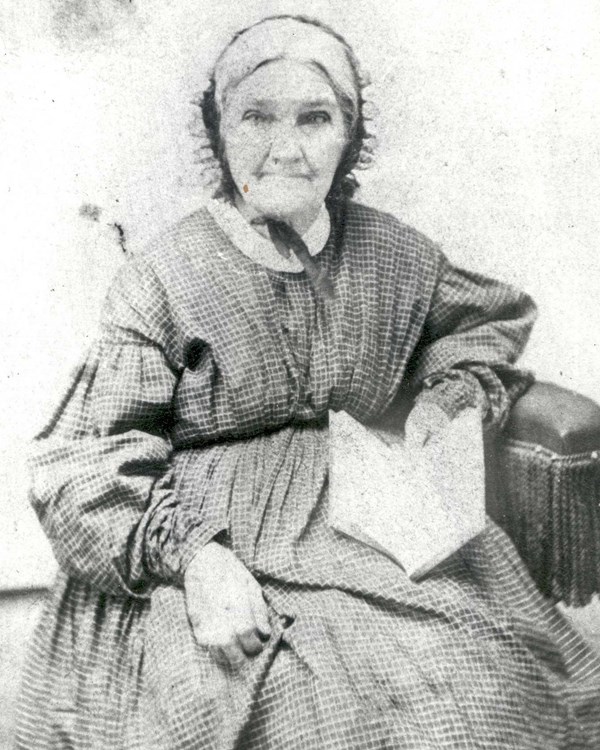 Significance:
Women of the Continental Army who helped feed soldiers at the Battle of Yorktown.
Place of Birth:
Goshen, Orange County, NY
Date of Birth:
November 17, 1743
Place of Death:
Mount Pleasant Township, Wayne County, PA
Place of Burial:
Morris Township, PA
Cemetery Name:
Green Grove Cemetery/Simpson's Cemetery
In the hard winter of 1780, a woman then known as Sarah Benjamin was working in the house of John Willis (Albany's resident blacksmith), as a servant when she met her future husband Aaron Osborn. Sarah discovered that Aaron had been splitting his time between service and blacksmithing at Willis's-- first serving at his enlistment site in Goshen, Orange County, NY and then a year at Fort Schuyler/Stanwix.
They married that same winter month of 1780, in the blacksmith's house. But, rather than a honeymoon, Aaron discovered he would be returning to the war. He wanted Sarah to come with him, but Sarah initially offered a hard pass. However after learning that Aaron would be serving on the Commissary Guard and that she would be given sleigh, horseback, and wagons to ride on, Sarah begrudgingly agreed. Sarah was always very firm in her opinions.
Sarah and her husband had a tireless journey through the northeast. Starting in Albany, they moved from place to place. Across the Hudson to Fishkill, then to West Point, down to Philadelphia, further to Baltimore, then all the way back up to Yorktown, where the final battle of the Revolutionary War would take place.
While on the journey, some Quaker women tried to urge Sarah to stay behind. Although it was likely that she would have, Aaron stepped in saying, he couldn't leave her behind. The Quakers felt the role of women at the time was to stay away from the war and 'in their own lane.' Quakers were notorious pacifists, and during the Revolution were often torn between following their religion and avoiding harassment by their pro-war neighbors. Though Sarah partook in stereotypically 'womanly' activities (cooking, mending, cleaning) at the different encampments, her accomplishments do not deserve to go unrecognized. Having done so much for the war while taking discouragement from so many shows her resilience.
American soldiers during the battle of Yorktown set up their camps about a mile away from the city. From there, they dug entrenchments all the way to the battle site, relentlessly bombarded by enemy artillery. A stark change of pace came as a plague settled about the soldiers. On a misty, cool night, Sarah noticed many men in the trenches throwing up their food; including her husband. Smartly, Sarah drew the conclusion that they were vomiting due to lack of time to cook. She knew that these men were overworked, overexerted, underpaid, exhausted, dehydrated and starved, and she wasn't going to take it. She created a coalition of women camp followers, and together they prepared food for the soldiers- they cooked beef, baked bread, and made hot coffee that they could regularly bring to the trenches.
On one fateful trip, Sarah herself met the large looming General George Washington. The General had asked if she was afraid of the cannonballs, to which she boldly answered,"No, the bullets would not cheat the gallows… and it would not do for the men to fight and starve too."
As the final surrender occured at Yorktown, numerous men began to cheer, and "the drums continued beating and all at once the officers hurra'd and swung their hats." Sarah asked them, "What is the matter now?" To with one replied "are not you soldier enough to know what it means?" Sarah answered "No," and the man replied, "The British have surrendered!" Although she was not an actual soldier, Sarah had earned the respect of the men of the Continental Army who saw her as not only competent but nearly their peer as a fellow "soldier" at their side.
Aaron and Sarah had at least two children together. Shortly after the birth of the last one, and just after the Continental Army was disbanded, Aaron vanished. She tracked him down to learn that he was living with another woman and her parents. Despite being abandoned, Sarah continued and eventually remarried. 
Many years after the war was over and the American soldiers had won, Congress had failed to "make ends meet," and the Revolutionary soldiers had received little to no money during and after their military service. Sarah, like with many other things, was not going to take it. And so, at the ripe age of 81 years old, Sarah took it upon herself to present her case to the courts. On November 20th, 1837, now Sarah Benjamin (after marrying her third husband, John) personally appeared before the court of Wayne County, PA and explained why she should be able to collect her and her former husband's pension for their work during the war, starting with the hard winter of 1780. She was awarded Aaron's pension and given one on her behalf as well. 
At the end of the day, Sarah's story, while often overlooked (similarly to other women's stories of the revolution) was a prominent part of the war. Her story, working alongside the folklore of Molly Pitcher, the narratives of Molly Brant and Margaret Corbin, and the tale of Mrs. McCarthy shows that throughout history women have been undoubtedly resilient. Through constant bombardment and pushing back, women have stood their ground and have done so much more than many women of the past could have dreamt of. Sarah and many other women of the revolution deserve to be remembered for the 'secret' work they have done.
Last updated: March 21, 2023