Person
Sarah Lincoln Grigsby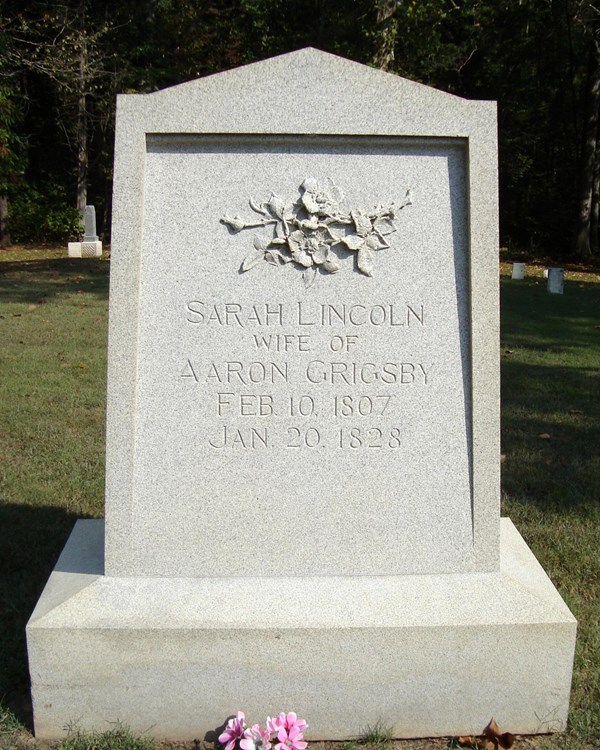 Significance:
Sister to Abraham Lincoln
Place of Birth:
Elizabethtown, Kentucky
Date of Birth:
February 10, 1807
Place of Death:
Spencer County, Indiana
Date of Death:
January 20, 1828
Place of Burial:
Spencer County, Indiana
Cemetery Name:
Old Pigeon cemetery (modern day Lincoln State Park)
Sarah Lincoln Grigsby, sister of Abraham Lincoln, would never know her younger brother's success and fame. As a result of her brother's fame, her own life has become part of our national heritage.
She was born in Elizabethtown, Kentucky, on February 10, 1807. She and her brother Abraham attended a subscription school taught by Zachariah Riney and later Caleb Hazel while in Kentucky. From her mother, she learned the arts of spinning, soap making, and cooking over an open fire. Most significant of all, she and her brother listened to stories told by travelers on the Louisville - Nashville road that ran directly in front of the Lincoln cabin. Sarah had the benefit of at least some schooling when many pioneer children learned only the tasks for farming or housekeeping.
When Thomas Lincoln moved his family to Indiana in 1816, Sarah's responsibilities increased. She worked hard to help her mother establish a home on this new frontier. By the autumn of 1818, her mother Nancy became desperately ill with milk sickness, a poisoning caused by the plant white snakeroot. On October 5, 1818, Nancy died, and Sarah helped the neighbor women prepare, dress, and place her mother's body into the casket. 
Sarah was raised in an environment of love, trust, and understanding. As she matured, she built her life upon this solid foundation.
It was a difficult time for Sarah following their mother's death. Her mother's death left Sarah, at the young age of eleven, with the formidable task of caring for the house, her father, her brother, and an orphaned eighteen-year-old cousin, Dennis Hanks, whose guardians had also died from the milk sickness. The absence of a mother was very painful for the whole family. When Thomas married Sarah Bush Johnston, a widow with three children, Sarah Lincoln had to adjust to having a stepmother, stepbrother, and two stepsisters. Her new stepmother relieved Sarah of much of the domestic labor in the Lincoln household, and her new stepsisters and stepbrother became playmates. During her thirteenth year, she attended Andrew Crawford's subscription school. Two years later, during her fifteenth year, she attended a school taught by James Swaney and, in her seventeenth year, she attended Azel Dorsey's school. 
Sarah joined the Little Pigeon Baptist Church on April 8, 1826, and on August 2, 1826, she married Aaron Grigsby. The new couple moved into a cabin two miles south of the Lincolns, and nine months after their marriage, Sarah announced her pregnancy to her family. Unknown complications occurred during the delivery and claimed both her life and that of her infant child. A neighbor was recorded as saying, "I remember the night she died. My mother was there at the time. She had a strong voice, and I heard her calling her father. He went after a doctor, but it was too late. They let her lay too long." Sarah died on January 20, 1828, at the age of twenty-one.
A description of Sarah comes to us from her stepmother who said she was "short of stature and somewhat plump in build, her hair was dark brown and her eyes were gray." John Hanks, a cousin, said, "She was kind, tender, and good-natured and is said to have been a smart woman." Her brother-in-law Nathaniel Grigsby said that Sarah "was a woman of extraordinary mind. Her good-humored laugh I can hear now, is as fresh in my mind as if it were yesterday. She could, like her brother, meet and greet a person with the kindest greeting in the world, make you easy at the touch of a word, an intellectual and intelligent woman."
Sarah was an important person in Abraham Lincoln's life. When she had started school, while the family was living in Kentucky, she had taken Abraham with her and had probably helped him learn his letters and numbers. When their mother died, they helped each other through the grief. Their relationship was characterized by deep affection. As a neighbor said, "They were close companions and were a great deal alike in temperament." Sarah's kind and loving care of him may have had much to do with Abraham's development of these same traits.
Sarah is buried with her infant in her arms in the Old Pigeon cemetery by Little Pigeon Baptist Church, located in Lincoln State Park. Her husband, Aaron, is buried beside her.
Last updated: January 12, 2022