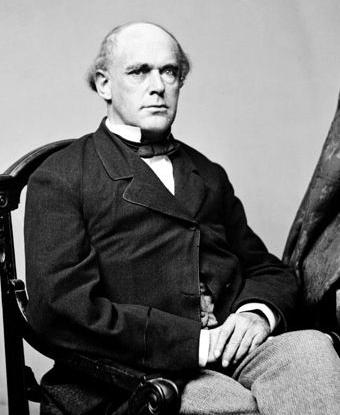 Significance:
6th Chief Justice of the U.S. Supreme Court (1864-1873)
Place of Birth:
Cornish, NH
Date of Birth:
January 13, 1808
Place of Death:
New York City, NY
Date of Death:
May 7, 1873
Place of Burial:
Cincinnati, OH
Cemetery Name:
Spring Grove Cemetery
When Salmon Chase was nine years old, his father died and he was raised by an uncle, who was the Protestant Episcopal Bishop of Ohio. After graduating from Dartmouth College in 1826, Chase moved to Washington, D.C., where he studied law under U.S. Attorney General William Wirt. Returning to Ohio in 1830, Chase settled in Cincinnati, where he practiced law.
He also engaged in anti-slavery writing and lecturing, and he defended escaped slaves in local as well as federal courts, including the U.S. Supreme Court. Chase helped form and lead the anti-slavery Liberty party, and following the Mexican War, he helped form the Ohio Free Soil party, which was dedicated to the non-expansion of slavery. He created the slogan "Free Soil, Free Labor, Free Men." As a Free Soiler, Chase was elected to the U.S Senate in 1849 and was an anti-slavery champion, speaking skillfully against the Compromise of 1850 and the Kansas-Nebraska Act of 1854 during his term (1849-1855). He went on to join the newly formed Republican Party and was elected the first Republican Governor of Ohio (1856-1860). While in office he supported women's rights, public education and prison reform.
Chase was returned to the Senate in 1860, this time as a Republican; however, three days after taking his seat, he resigned to become Abraham Lincoln's secretary of the treasury. As secretary of the treasury, Chase presided over the complex and difficult task of financing the Union war effort. Among other accomplishments, he established a national banking system, issued paper currency, ensured that the Union could sell debt to pay for the war effort and successfully managed the sale of $500 million in government war bonds.
Chase resigned his Treasury post in 1864 to run against Lincoln for the Republican nomination for president. He lost the nomination, but later that same year Lincoln appointed him Chief Justice of the United States. While in that role, Chase presided over the 1868 impeachment trial of President Andrew Johnson. Eventually he drifted back toward his old Democratic allegiance and made an unsuccessful effort to secure the Democratic nomination for the presidency in 1868.
Last updated: January 22, 2022