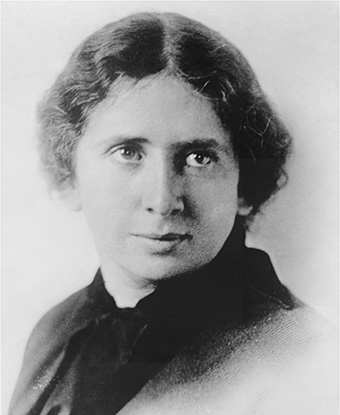 Significance:
Union organizer, suffrage campaigner, labor law reformer, socialist activist
Place of Birth:
Saven, Poland
Date of Birth:
April 6, 1882
Place of Death:
New York, New York
Date of Death:
August 11, 1972
Rose Schneiderman's fierce advocacy for women and workers earned her a reputation as "a tiny, red-haired bundle of social dynamite." She was a leading voice in the trade union movement for over fifty years, organizing on the shop floor, the street corner, and in the halls of Congress and the White House.
Born to an Orthodox Jewish family in what is now Poland in 1882, Schneiderman emigrated with her family to the United States in 1890. They settled in New York City on the Lower East Side of Manhattan. Her parents emphasized the importance of learning, and Schneiderman was literate in Hebrew, Yiddish, Russian, and English. After her father's early death, she was forced to leave school to help support her siblings. She initially found employment in a department store before moving to the dangerous, but more lucrative, garment industry. Schneiderman eventually went to work at a cap factory. It was there, in 1903, that she co-organized Local 23 of the Jewish Socialist United Cloth Hat and Cap Makers' Union, ultimately leading a successful strike while still in her early twenties.
This success led her to full-time union organizing, and, in 1908, Schneiderman became the New York Women's Trade Union League's (NYWTUL) first full-time organizer in the women's garment industry. In her role with the NYWTUL, Schneiderman worked closely with Clara Lemlich Shavelson of the International Ladies' Garment Workers' Union (ILGWU) during the 1909 garment workers strike in New York City, often referred to as the Uprising of 20,000.
Her powerful speech about the importance of trade unions in the aftermath of the Triangle Shirtwaist Factory Fire in 1911 further cemented her role as an important voice in the labor movement. In addition to her trade union work, Schneiderman also used her considerable organizing skills toward the cause of women's suffrage, including a speaking tour sponsored by the National Woman Suffrage Association (NWSA).
In 1917, Schneiderman became the president of the NYWTUL—the first woman to hold that title. Despite having a position of power, she continued to face sexism and discrimination. Over time, she grew increasingly disappointed with the male-dominated leadership and membership of the trade unions.
In the nineteen-teens and -twenties, Schneiderman worked at the state level in New York to enact labor laws to protect workers, in particular women's labor laws, since they were distinct from men's at the time—like women's minimum wage. In 1920, Schneiderman ran for the United States Senate as the candidate of the New York State Farm Labor Party.
Through the WTUL, Schneiderman met Eleanor Roosevelt, and over the years developed a friendship with her, and with future president Franklin D. Roosevelt. Schneiderman became a trusted adviser on the trade union movement to the Roosevelts, and FDR appointed her to the Labor Advisory Board of the National Recovery Administration (NRA) in 1933. She was the only woman appointed to that body. Schneiderman's influence with the Roosevelts informed New Deal legislation, including the National Labor Relations Act of 1935 (also known as the Wagner Act) and the National Industrial Recovery Act.
From 1937 to 1943, she served as secretary of the New York State Department of Labor.
Although she retired from public life in 1949, Schneiderman continued to be vocal about social justice and labor issues. She published a memoir of her life in 1967, Rose Schneiderman died in New York City on August 11, 1972.
Bibliography
McGuire, John Thomas. "From Socialism to Social Justice Feminism: Rose Schneiderman and the Quest for Urban Equity, 1911-1933." Journal of Urban History 35, no. 7 (November 2009): 998–1019. doi:10.1177/0096144209347990.
Orleck, Annelise, Common Sense & a Little Fire: Women and Working-Class Politics in the United States, 1900-1965 (Chapel Hill: University of North Carolina Press, 1995).
"Rose Schneiderman." 1972. New York Times, Aug 14.
Von Drehle, Dave, Triangle: The Fire that Changed America (New York: Atlantic Monthly Press, 2003).
Last updated: October 13, 2021