Person
Richard Stoddert Ewell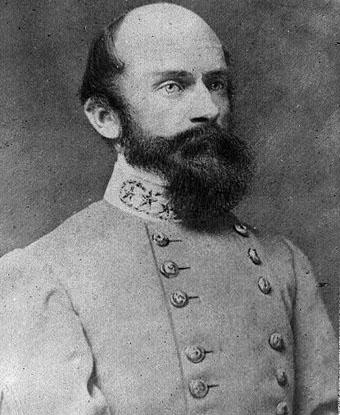 Significance:
Confederate lieutenant general
Place Of Birth:
Washington, DC
Date Of Birth:
February 08, 1817
Place Of Death:
Spring Hill, TN
Date Of Death:
February 08, 1872
Place Of Burial:
Nashville, TN
Cemetery Name:
Nashville City Cemetery
From the Peninsula to Maryland: Ewell's role in the summer of 1862
On January 24, 1862, Richard Ewell was promoted to major general, and appointed to command a division under Thomas J. "Stonewall" Jackson. His admirable performance during the Valley Campaign as well as his distinctive service during
the Seven Days Battles of Gaines' Mill and Malvern Hill set him apart as a capable division commander.
After stopping McClellan's push toward Richmond and sending the Army of the Potomac retreating toward Washington, Lee turned his attention to John Pope's "total" war on the people of Northern Virginia, which had devastated the region between Culpeper and the railroad junction at Manassas. He dispatched Jackson's command, including Ewell to deal with the problem.
Ewell played a key role in the defeat of Nathaniel Banks at the Battle of Cedar Mountain on August 9 and, with the rest of Jackson's command, captured the Union supply depot at Manassas on August 27.
Two days later Jackson's men advanced to a commanding position near the unfinished railroad cut above the Brawner house. In Jackson's report of what happened next he writes: "By this time it was sunset; but as [the enemy] column appeared to be moving by, with its flank exposed, I determined to attack at once, which was vigorously done by the divisions of Taliaferro and Ewell." This attack transformed into a general engagement and "both lines stood exposed to the discharges of musketry and artillery until about 9 o'clock, when the enemy slowly fell back, yielding the field to our troops."
Ewell and his men had helped to carry the day. In Jackson's official report of the action he recorded: "the loss on both sides was heavy, and among our wounded were Major-General Ewell and Brigadier-General Taliaferro. The latter after a few months was able to resume his duties; the former, I regret to say, is still disabled by his wound, and the army thus deprived of his valuable services."
Ewell's left leg had been shattered by a minie ball and had to be amputated below the knee. Though he returned to service in June of the following year, Ewell would never again lead with the same fire he had displayed in 1862.
Last updated: June 17, 2015