Person
Reginald Fessenden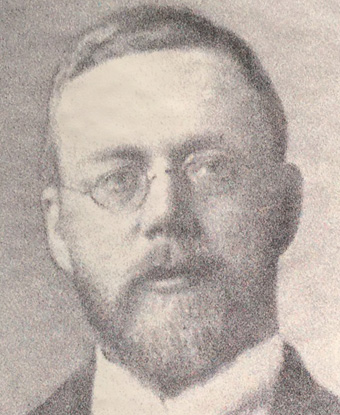 Significance:
Father of Modern Radio
Place of Birth:
East-Bolton, Quebec, CA
Date of Birth:
October 6, 1866
Date of Death:
July 22, 1932
Cemetery Name:
St. Mark's Church
Reginald Fessenden, considered the "Father of Voice Radio", was a Canadian-born inventor who performed pioneering radio experiments and applied them in ways that are still in use today. In pursuit of a successful system to transmit and receive the human voice using continuous radio waves, Fessenden experimented on Roanoke Island and the surrounding area for eighteen months from 1901-1902.
Working as a contractor for the U.S. Weather Bureau, Fessenden constructed an efficient continuous-wave transmitter and improved signal reception with a continuous wave-detector. He erected three 50-foot tall radio towers at Weir Point on Roanoke Island, Cape Hatteras, and Cape Henry to conduct his research.
By March of 1902, Fessenden successfully transmitted and received the human voice with the devices he created, sending a 127-word voice message from a transmitter tower at Cape Hatteras to a receiving tower on Roanoke Island (the contents of the message are unknown). 
As word of his success spread, conflict arose between Fessenden and the Weather Bureau. Since Fessenden was a paid contractor, the Bureau felt they owned his inventions. Fessenden resigned his position in protest in August, 1902 to continue his research independently. 
On Christmas Eve, 1906, his system made the first public demonstration of voice-radio, with a broadcast of "O' Holy Night."
Reginald Fessenden died in Bermuda on July 22, 1932.
Last updated: September 14, 2017