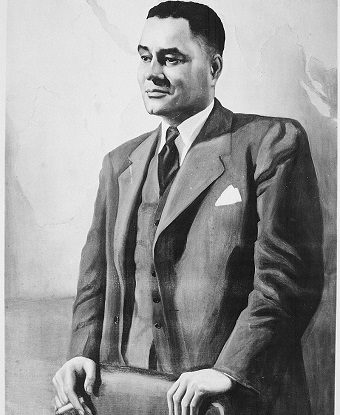 Significance:
First African American to be awarded a Nobel Peace Priize
Date of Birth:
August 7, 1904
Date of Death:
December 9, 1971
Place of Burial:
Bronx, New York
Ralph Bunche (1904-1971) was the first African American to receive a Nobel Peace Prize. Bunche received the 1950 prize for his late 1940s work for mediation in Israel. He is also an American political scientist, academic, and diplomat. Dr. Bunche is an American Hero.
Bunche was born in Detroit Michigan in 1904. His father, Fred, was a barber and his mother, Olive Agnes, was an amateur musician. Before moving to Toledo, Ohio, Bunche was baptized at the Second Baptist Church. The family returned to Detroit after his sister Grace was born in 1909 with the help of their maternal aunt, Ethel Johnson. Fred Johnson did not live with the family after they returned from Ohio, and was not a good provider for the family. Following the declining health of his mother and uncle, Bunche moved with his maternal grandmother, Lucy, to Albuquerque, New Mexico in 1915. Olive, his mother, died in 1917 and his uncle committed suicide just three months later. In 1918, Bunche, his sister, and his grandmother moved to Los Angeles. 
Bunche was a brilliant student, having graduated the valedictorian of his class at Jefferson High School. He then attended University of California, Los Angeles and graduated summa cum laude and Phi Beta Kappa in 1927. Again he was the valedictorian of his class. Bunche completed his graduate work at Harvard University, where he earned his master's degree and doctorate in political science. Before he completed his doctorate, Bunche had started teaching at Howard University. In 1934, Bunche became the first African American to gain a PhD in political science from an American University. He published his first book, World View of Race, in 1936 before conducting his postdoctoral research in anthropology at the London School of Economics and the University of Cape Town.
During the World War II years, Bunche worked at the Office of Strategic Services, which was the precursor to the CIA, as a senior social analyst on Colonial Affairs. Alger Hiss appointed Bunche to Associate Chief of the Division of Dependent Area Affairs in 1943 after he was transferred to the State Department. While at the State Department, Bunche participated in the preliminary planning for the United Nations at the San Francisco Conference in 1945. The year before he participated in the Dumbarton Oaks Conference in Washington,D.C. were he served as an adviser to the U.S.. delegation for the 1945 conference. Bunche, along with First Lady Eleanor Roosevelt, were considered instrumental in the creation and adoption of the Universal Declaration of Human Rights.
In 1947, Bunche served as the assistant to the United Nation Special Committee on Palestine. In his effort to resolve the Arab-Israeli conflict in Palestine, Bunche traveled to the Middle East as the chief aide to Sweden's Count Folke Bernadotte. Bernadotte had been appointed by the U.N. to mediate the conflict. In September 1948, Bernadotte was assassinated in Jerusalem by members of the underground Jewish Lehi group, led by Yitzhak Shamir. Following Bernadotte's death, Bunche became the U.N.'s chief mediator. In 1950, Bunche was awarded the Nobel Peace Prize for achieving the 1949 Armistice Agreements. 
In 1953, Bunched moved to the Kew Gardens neighborhood in Queens, New York after buying a home with the Nobel Prize money. Bunched lived there with his wife, Ruth, who was one of his students at Howard, and their children: Joan Harris (b. 1931); Jane Johnson (b.1933); and Ralph Jr. (born 1943).
Bunche resigned from the United Nations due to ill-health. He passed away on December 9, 1971 from complications related to diabetes. He was survived by his wife Ruth, daughter Joan, son Ralph, and three grandchildren. It is believed that his daughter Jane committed suicide after jumping from the roof of her Bronx apartment building. She left no note.
Ralph Bunche is associated with several properties listed on the National Register of Historic Places:
The Ralph Bunche Peace & Heritage Center is located within his boyhood home in South Los Angeles. It was listed on the NRHP in 1978. Bunche lived in the House from 1919-1928.
The Ralph Bunche House is located in Washington, D.C. Bunched lived there from 1941-1947 while he taught at Howard University and worked for the State Department. It is located at 1510 Jackson Street, N.E. It was listed on the National Register of Historic Places in 1993.
Parkway Village is an apartment complex in Queens, New York that was built for United Nations employees. It has 675 residential units and is located on 35 acred of land. Bunched lived there from 1947-1952. It was listed on the National Register of Historic Placed in 2012 for its architectural significance and historical associations.
The Ralph Johnson Bunche House is located in Queens, NY. This was the house Bunche purchased with his Nobel Prize money. It is located at 115-24 Grosvenor Road, Kew Gardens, Queens. It was listed on the NRHP and as a National Historic Landmark in May 1976.
Last updated: May 3, 2018