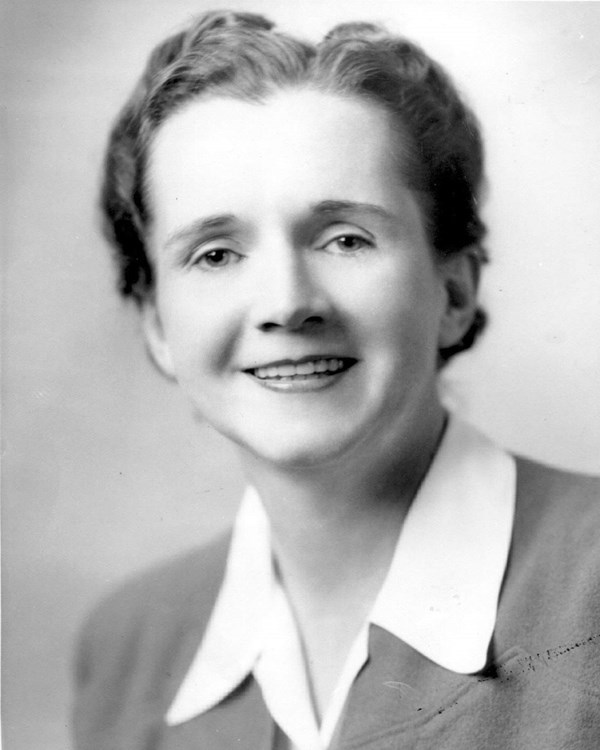 Significance:
American marine biologist, environmentalist, conservationist, and writer
Place of Birth:
Springdale, PA
Date of Birth:
May 27, 1907
Place of Death:
Silver Spring, MD
Date of Death:
April 14, 1964
Place of Burial:
Rockville, MD
Cemetery Name:
Parklawn Memorial Park
Rachel Louise Carson was a biologist, writer, and environmental activist. Most of Carson's writing expressed her love of nature and concern for future generations. With language that was both poetic and compelling, she inspired people to become interested in the natural world. Her book Silent Spring alerted the public to the dangers of using chemical pesticides carelessly. Carson's work influenced the global environmental and conservation movements.  
Early Life and Education
Carson was born on May 27, 1907. She grew up in rural Springdale, Pennsylvania, and spent her childhood exploring the hills and fields surrounding her family's farm.[1] Her mother, Maria McLean, taught her about the local wildlife. Since childhood, Carson had wanted to become a writer.
In 1925, she began studying English at Pennsylvania College for Women. She later switched to biology. During a summer research project in Woods Hole, Massachusetts, Carson encountered the sea for the first time. It would become the focus of much of her work. During the 1930s, Carson studied and taught biology and zoology at Johns Hopkins University and the University of Maryland. Unfortunately, she could not earn enough money as a PhD student to support her family during the Great Depression. She left her program to get a job with better pay.
Early Career and Writing
In 1935, Carson started working in the public education department of the U.S. Bureau of Fisheries (now the U.S. Fish and Wildlife Service). Her job enabled her to combine her talents as a writer and biologist. She interpreted scientific information for the public in radio programs and brochure series. Her radio program, "Romance Under the Waters," discussed marine life. She moved up in the ranks, eventually becoming editor-in-chief of all FWS publications. 
At the same time, Carson was publishing her own work. While sales of her first book Under the Sea-Wind (1941) were disappointing, her second work The Sea Around Us (1951) had better success. It stayed on the New York Times bestseller list for a record-breaking 86 weeks and won the National Book Award for Non-fiction. In her acceptance speech, Carson explained:
"The aim of science is to discover and illuminate truth...If there is poetry in my book about the sea, it is not because I deliberately put it there, but because no one could write truthfully about the sea and leave out the poetry."
Relationship with Dorothy Freeman
Shortly after Carson published The Sea Around Us, she received a letter from a woman named Dorothy Freeman. Freeman spent her summers on an island off the coast of Maine.[2] After reading Carson's book, Freeman discovered Carson had a cottage there too and decided to write to her. The women became very close.
Carson and Freeman's correspondence from 1953 to 1964 provides an intimate look into their relationship. Each envelope they sent each other contained two letters. The first was to share with Freeman's husband or Carson's mother; the second was private and intended to be destroyed. In these letters, Carson expressed her appreciation for Freeman as a "dearly loved friend" who supported her and her writing. In a 1954 letter, Carson wrote:
"It is quite necessary for me to know that there is someone who is deeply devoted to me as a person, and who also has the capacity and the depth of understanding to share, vicariously, the sometimes crushing burden of creative effort, recognizing the heartache, the great weariness of mind and body, the occasional black despair it may involve—someone who cherishes me and what I am trying to create, as well."
Carson was an intensely private person. Before her death, she and Freeman destroyed about 500 of their letters. In 1995, Freeman's granddaughter published the remaining letters in an edited collection called Always, Rachel. These letters reveal how Freeman helped to sustain Carson through some of her biggest challenges. During this period, Carson cared for her ailing mother, adopted her orphaned grandnephew, and published Silent Spring.
Silent Spring
Silent Spring is widely considered Carson's most influential work. It was first published in three parts in The New Yorker in June 1962 and then released as a book. Carson wrote the book at her home in Silver Spring, Maryland. It is now a National Historic Landmark.[3] Silent Spring warned Americans against the "indiscriminate use" of chemical pesticides, including Dichlorodiphenyltrichloroethane (DDT). The title referred to the threat of a world without birdsong if DDT use continued.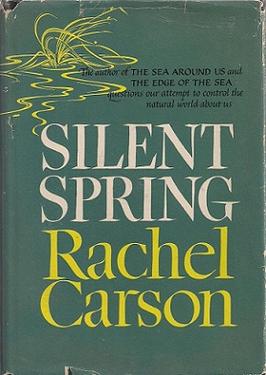 During World War II, chemical companies sold DDT to the military to kill lice. After the war, companies began selling it for use on farms and gardens. Carson grew concerned after reading government reports. DDT hadn't been tested for civilian use and seemed to be killing wildlife other than insects. Carson pitched an article about the subject to Readers' Digest, but the magazine rejected her. Nearly twenty years later, she released Silent Spring. 
Carson urged the government to do more extensive research into environmental issues. She wanted the public to make fully informed decisions about health and safety. In Silent Spring, she emphasized the interconnectedness of the natural environment as a whole:
"Can anyone believe it is possible to lay down such a barrage of poison on the surface of the earth without making it unfit for all life? They should not be called 'insecticides' but 'biocides.'"
Silent Spring sparked a national controversy over the use of pesticides. Chemical companies worried about how Carson's writing would impact their profits and tried to discredit her. They claimed that banning pesticides would allow insects to dominate American agriculture and spread disease. Carson refused to back down. 
Legacy
While writing Silver Spring, Carson had been diagnosed with breast cancer. Her symptoms and medical treatments hindered her work on the book. She underwent multiple surgeries and radiation therapy, but the cancer continued to spread. After Silent Spring was published, Carson kept her illness a secret from everyone but her publisher and Freeman. They feared that the chemical companies would use it against her.
Despite her deteriorating health, Carson continued to advocate for stronger environmental regulations. In 1963, she testified before the Senate Committee on Commerce. She urged them to require companies to include labels about preventing environmental damage on their products.
On April 14, 1964, Carson died in her home in Silver Spring, Maryland. Before her death, she lamented to Freeman that she would be remembered for Silent Spring, not her love of the sea. 
Throughout her life, Carson shared her love of the natural world with others. Her writing raised awareness about environmental issues around the world. Silent Spring became an international bestseller. In the U.S., Carson's work led to the establishment of the Environmental Protection Agency and the first Earth Day celebration in 1970. Silent Spring influenced several federal conservation policies, including the ban of DDT in 1972. 
 
Notes
[1] The Rachel Carson Homestead in Springdale, Pennsylvania was listed in the National Register of Historic Places in 1976.
[2] The U.S. Fish and Wildlife Service established the Rachel Carson National Wildlife Refuge along the coast of Maine in 1966.
[3] The Rachel Carson House in Silver Spring, Maryland became a National Historic Landmark in 1991. 
Bibliography
Carson, Rachel. "A Battle in the Clouds." St. Nicholas 45, no. 11 (September 1918): 1048. Yale University Library Digital Collections. Accessed October 1, 2021. https://collections.library.yale.edu/catalog/2003110.
Carson, Rachel. "From Carson's remarks at her acceptance of the National Book Award for Nonfiction." Rachel Carson Excerpts Continued. U.S. Fish and Wildlife Service. Last updated February 5, 2013. https://www.fws.gov/refuge/Rachel_Carson/about/rachelcarsonexcerpts2.html.
Lear, Linda. Rachel Carson: Witness for Nature. New York: Henry Holt & Company, 1994.
Leonard, Jonathan Norton. "Rachel Carson Dies of Cancer; 'Silent Spring' Author Was 56." New York Times. April 15, 1964. https://www.nytimes.com/1964/04/15/rachel-carson-dies-of-cancer.html.
Lepore, Jill. "The Right Way to Remember Rachel Carson." The New Yorker. Published March 19, 2018. Accessed September 14, 2021. https://www.newyorker.com/magazine/2018/03/26/the-right-way-to-remember-rachel-carson.
Thomas, P. L. "Speaking Truth to Power: The Legacies of Rachel Carson." The English Journal 103, no. 6 (July 2014): 81-84. JSTOR. Accessed September 14, 2021. https://www.jstor.org/stable/24484389.
U.S. Fish and Wildlife Service. "Rachel Carson Biography." Rachel Carson National Wildlife Refuge. Last updated February 5, 2013. https://www.fws.gov/refuge/rachel_carson/about/rachelcarson.html.

The content for this article was researched and written by Jade Ryerson, an intern with the Cultural Resources Office of Interpretation and Education.
Last updated: August 10, 2023