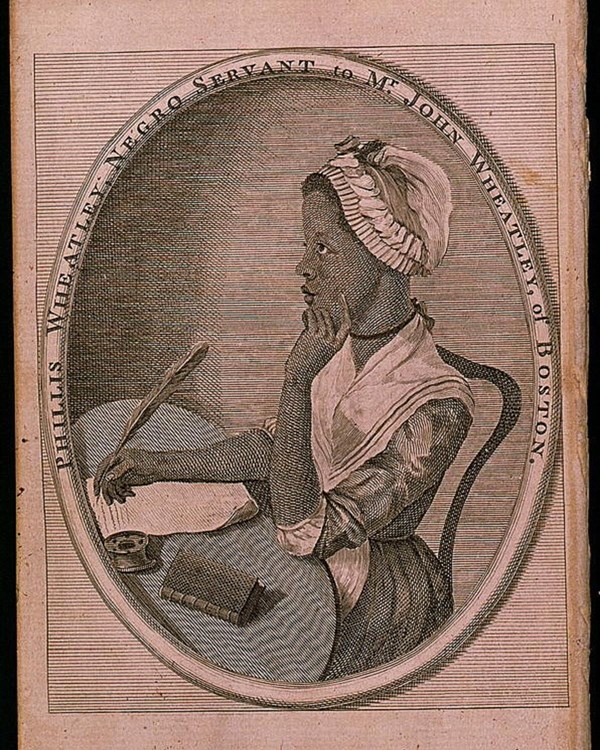 Place of Birth:
West Africa
Place of Death:
Boston, Massachusetts
Date of Death:
December 5, 1784
Phillis Wheatley earned acclaim as a Black poet, and historians recognize her as one of the first Black and enslaved persons in the United States, to publish a book of poems.
Born in West Africa, Wheatley became enslaved as a child. In 1761, John and Susanna Wheatley purchased her when she arrived in Boston.1 As she grew up, the Wheatleys taught her how to read and write. Upon realizing the extent of her capabilities, John Wheatley ensured that Phillis Wheatley had a thorough course of studies; she learned history, British Literature, Greek and Latin.2 As a result, Wheatley received an unprecedented education for an enslaved person or for a woman of any race at the time.
Phillis Wheatley became well known around Boston for her poetry. Newspapers and pamphlets published her writings as early as 1767.3 Frequently, she wrote her poems in the style of odes and tributes. Wheatley's tribute to George Whitefield in 1770 expanded her renown due to its widespread publication and impressive language.4
As a result of her popularity, critics questioned Wheatley's abilities, refusing to believe than an enslaved Black woman could write such remarkable poetry. To counter these critics, Wheatley defended her work to a panel of prominent Boston citizens in 1772. She convinced the panel that she had authored the poems and they later wrote an attestation to her abilities, which her publishers included in the preface of her first book.5
Even with the panel's attestation, Wheatley could not get her book published within the colonies. With the help of the Wheatleys, she traveled to London to attempt to get her book of poetry published. Selina Hastings, the Countess of Huntington, aided Wheatley in this endeavor.6 In 1773, Phillis Wheatley's Poems on Various Subjects, Religious and Moral became the first book of poetry published by an enslaved Black woman. Despite being a ground-breaking author, interestingly, Wheatley's book and subsequent poems rarely mention of her personal life or her experiences as an enslaved person.
Soon after her return to Boston, the Wheatleys emancipated Phillis Wheatley. Her fame lasted for a few more years as her eloquent tributes, poems on current events, and use of biblical language continued to move people.7 Her work brought her praise from leading figures in the colonies, such as George Washington, to whom she dedicated a poem in 1775 while he was headquartered in Cambridge, John Hancock, and Benjamin Rush, among others.8
Over the years following her emancipation Wheatley's fame waned; however, she continued to write poems. Wheatley married free Black grocer John Peters in 1778 and struggled with poverty and poor living conditions for the remainder of her life. Due to Peters' imprisonment for debt, Wheatley often needed to fend for herself and raise money for her family. Though she tried to publish her later works, Wheatley could not find a publisher. In 1784, Wheatley became ill and died on December 5 at the age of thirty one.
Phillis Wheatley's poems continue to be studied by historians and literary scholars due to her talented use of language and biblical symbolism, as well as her ground-breaking book.
Footnotes
Jared Ross Hardesty, Unfreedom: Slavery and Dependence in Eighteenth-Century Boston (New York: New York University, 2016), 78.
Ibid., 78-79.
Sondra A. O'Neale, "Phillis Wheatley," Poetry Foundation, accessed on October 9, 2020, https://www.poetryfoundation.org/poets/phillis-wheatley.
Ibid.
Henry Louis Jr. Gates, "Phillis Wheatley On Trial," The New Yorker, January 12, 2003, accessed on October 9, 2020, https://www.newyorker.com/magazine/2003/01/20/phillis-wheatley-on-trial.
Ibid.
Hardesty, Unfreedom, 160-161.
O'Neale, "Phillis Wheatley."
Last updated: January 17, 2023