Peter Gregory Gallop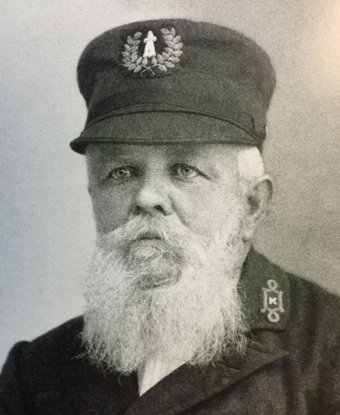 Quick Facts
Significance:

Longest-Serving Bodie Island Lighthouse Keeper

Place of Birth:

Harbinger, NC

Date of Birth:

September 21, 1843

Place of Death:

Wanchese, NC

Date of Death:

December 24, 1921
Peter Gregory Gallop was the longest serving Bodie Island Lighthouse keeper, serving for 28 years from 1878 to 1906. Having been both assistant and primary keeper of the Roanoke Island Marshes Light from 1873 to 1878, Gallop was transferred to Bodie Island as primary keeper on December 7, 1878. 
During his tenure at Bodie Island, Gallop witnessed several changes to lighthouse keeping. For the first time, standardized uniforms were issued to lighthouse keepers on July 4, 1884. In addition, the lighthouse transitioned from lard oil to mineral oil for the lamps. Mineral oil burned brighter and was cheaper to supply. 
Throughout the 1880s and 1890s, several renovations were made at Bodie Island under Gallop's watch. New walkways were built, new stables erected, and a new cistern was installed. Perhaps the most unique change occurred in 1898, the arrival of the telephone. 
Peter Gregory Gallop left the Bodie Island Lighthouse on January 10, 1906.
Last updated: September 28, 2016