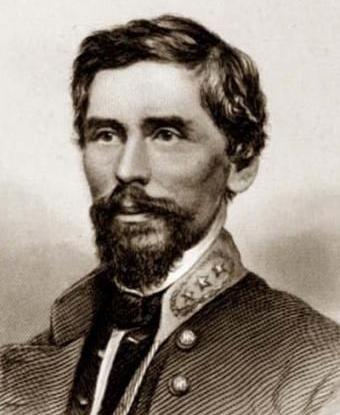 Significance:
Confederate Major General
Place Of Birth:
County Cork
Date Of Birth:
March 16, 1828
Place Of Death:
Franklin, TN
Date Of Death:
November 30, 1864
Born in Ireland, Patrick Cleburne began his military career in the 41st Regiment of Foot in the British army before purchasing his discharge and emigrating to American in 1849. He settled Helena, Arkansas in June 1850 and became an American citizen in 1855.
In 1861, Cleburne joined the Confederate army and was elected colonel of the 15th Arkansas Infantry. In March 1862, he was promoted to brigadier general and he led a brigade into battle at Shiloh (April 1862), Richmond, Kentucky (August 1862) and Perryville (October 1862) and Stones River (December 1862). Cleburne was promoted to major general on December 13, 1862, leading a division with distinction at the Battle of Chickamauga (September 1863a) and the Battle of Missionary Ridge (November 1863), for which he and his troops received an official thanks from the Confederate Congress.
Concerned that the Confederacy was losing the war due to limitations of its manpower and resources, Cleburne on January 2, 1864 gathered the leadership of the Army of Tennessee and presented a plan to emancipate slaves, arm them and enlist them in the Confederate army to secure a victory for the South. He stated that slavery was the Confederacy's "most vulnerable point, a continued embarrassment, and in some respects an insidious weakness." The proposal was met with silence during the presentation, and was never officially recognized by Confederate officials.
In the spring of 1864 the Army of Tennessee moved towards Atlanta, Georgia, where Patrick Cleburne led his men at the Battles of Dalton, Tunnel Hill, Resaca, Pickett's Mill, Ringgold and Kennesaw. On November 30, 1864, at the Second Battle of Franklin, Major General Patrick Cleburne was killed leading an assault on the Union lines.
Last updated: June 17, 2015