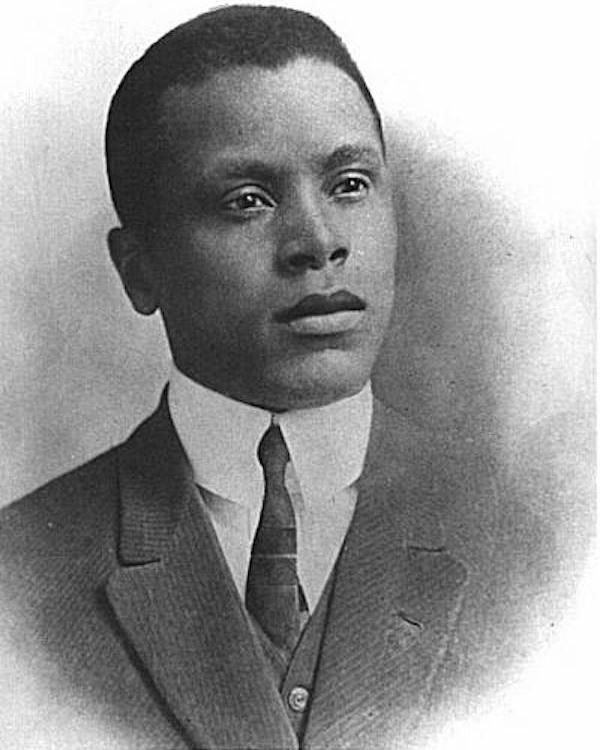 Significance:
filmmaker, author, homesteader
Place of Birth:
Metropolis, Illinois
Date of Birth:
January 2, 1884
Place of Death:
Charlotte, North Carolina
Date of Death:
March 25, 1951
Place of Burial:
Great Bend, Kansas
Cemetery Name:
Great Bend Cemetery
Oscar Micheaux was an African-American homesteader. Like many Black homesteaders, his parents Calvin and Belle Michaux were born enslaved, in Kentucky. They moved across the Ohio River to Illinois, where Oscar was born in 1884. His family grew wheat and corn on their 80-acre farm.
As a young man, Micheaux worked odd jobs in and around Chicago, including as a Pullman porter. As he traveled the nation on a Pullman, he decided to homestead – the prairie called to him.
Black homesteaders understood better than anyone the implications of landownership on political and social freedoms and rights. The Emancipation Proclamation, which like the Homestead Act was signed into law by President Abraham Lincoln, declared "that all persons held as slaves…. Are, and henceforward shall be free." After Emancipation Blacks sought to build new lives, provide for their families, and educate their children. They especially sought to own their own land, and realize their long denied dreams of working their own farm. They knew how to farm, and saw land ownership as their way to support themselves and their families, and a symbol of their freedom and equality in the United States.
Oscar Micheaux traveled to South Dakota in 1904 to participate in a lottery run by the General Land Office to distribute homesteading lands on the Rosebud Reservation. However, with more than 100,000 claimants for only 2,400 homesteads, he was not able to obtain one directly in the lottery drawing. He hired a land locator for $80 and purchased a relinquished homestead. After some success as a homesteader on the Rosebud Indian Reservation, a three year drought destroyed his crops.
Oscar was in his field rain or shine, yielding only to frozen ground, plowing up 120 acres in his first year. His determination soon turned his neighbors laughter to a "grudging respect, then to acceptance, and finally to admiration, when they realized that he had broken many more acres of prairie than most of them." This admiration left Oscar feeling tentatively welcome in an area where he was the lone African American. Knowing the delicate nature of race relations, Oscar knew a romantic relationship with a white woman would not be tolerated, even though Oscar had strong feelings for a local white woman and those feelings appear to have been reciprocated.
Micheaux married Orlean McCracken, a schoolteacher and daughter of a reverend from Chicago, in 1910 and they had a fraught marriage. When Oscar traveled for work, Orlean felt abandoned. During one of the times he was away, Orlean suffered a miscarriage. Her family did not like having her on the homestead alone, so they traveled to South Dakota and took her back to Chicago with them. Orlean's father sold some of Micheaux's property and took the money. Micheaux tried unsuccessfully to get Orlean and his property back. They divorced in 1917.
Oscar began writing down his experiences as a homesteader as a way to cope with the hardships he was enduring. His writings were a mix of fiction and biography meant to tell his story of struggle with, and conquest of, the land. He soon had created a full length book that he appropriately titled The Conquest. He began traveling throughout the region selling the book to his friends and neighbors. This new enterprise soon led to a second novel titled The Homesteader. His self published novels were moderately successful, but more importantly they caught the attention of a production company that wanted to turn them into a movie. 
In 1919, he adapted his story into a film, becoming the first known African-American filmmaker and director. Though The Homesteader (1919) is considered to be a "lost film", it launched Micheaux's career. 
Over 30 years he made more than 40 films, and his work has been preserved by the Library of Congress and the National Film Registry as "culturally, historically, or aesthetically significant." Micheaux's films featured contemporary African-American life. His works highlighted and worked to combat racism and racial inequality. Black actors in Micheaux's films played the roles of doctors, businessman, detectives, and lawyers. His movies provided a window into black life and the African American perspective on race.
Oscar Micheaux remarried in 1926 to actress Alice B. Russell. She appeared in six of his films. Oscar passed away of heart failure on March 25, 1951 at the age of 67, in Charlotte, North Carolina on a business trip. Oscar was buried in Great Bend, Kansas. His grave stone reads "A Man Ahead of his Time."
---
Links: 
Oscar Micheaux Archival Collection at the New York Public Library archives.nypl.org -- Oscar Micheaux papers 
Oscar Micheaux Patent Details - BLM GLO Records 
Millions of people, millions of stories shared here!
Last updated: May 17, 2021