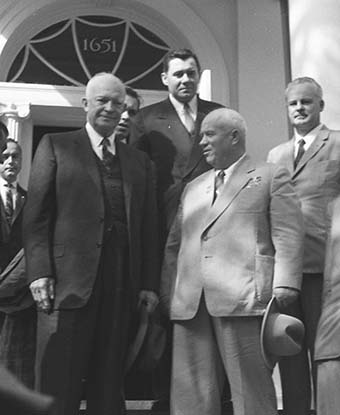 Significance:
Soviet politician and leader during the Cold War
Place of Birth:
Kalinovka, Russia
Date of Birth:
April 15,1894
Date of Death:
September 11, 1971
Born a Russian peasant in 1894, Nikita Sergeyevich Khrushchev would rise from the most austere circumstances to take a leading role in some of the most transformational events in modern history. Though he is often best remembered in the West for his eccentric and often profane outbursts, it was his innate political cunning that allowed him to rise to such lofty heights. 
In his youth, Nikita Khrushchev worked as a manual laborer, and only received a total of four years of formal schooling. After the start of the Russian Civil War, Khrushchev joined the Bolsheviks and served in the Red Army as a commissar in charge of political indoctrination. He worked his way into the inner circles of the Party, and was one of the few to survive Joseph Stalin's bloody political purges. During World War II, a failed offensive at Kharkov proposed by Khrushchev nearly cost him his life, but he was instead sent to Stalingrad, where the historic Russian victory helped redeem his reputation.
After the war, Khrushchev managed the Soviet reconstruction of war-torn Ukraine. When Stalin died suddenly in 1953, Khrushchev was among the few high ranking officials in a position to seize power. He did so in September, and quickly organized the execution of his political rivals. Denouncing Stalin's reign as a "cult of personality," Khrushchev worked to reform some of the draconian policies of Stalinism and liberalize Soviet domestic affairs and foreign relations. 
The death of Stalin and Khrushchev's rise to political power roughly coincided with the inauguration of President Dwight D. Eisenhower in 1953. The Eisenhower administration was staunchly anti-communist, however it was unwilling to intervene militarily when the Kremlin crushed a popular uprising in Hungary in 1956. Similarly, Khrushchev was unwilling to risk open warfare with the West, proposing that the Soviet Union and other noncommunist nations could "peacefully coexist." In July 1959, US Vice President Richard Nixon visited Moscow where, at an exhibition of Western technology and consumer products, he engaged in the famous "kitchen debate" with the Soviet premier, defending the merits of American capitalism. After this exchange, it was decided on by both the Eisenhower administration and the Kremlin that Nikita Khrushchev would visit the United States. 
Khrushchev's visit was unprecedented; he was the first Soviet dictator to visit the United States, and his arrival sparked a media circus. Traveling the country for eleven days, Khrushchev met with influential people, toured American farms and factories, but was enraged when he discovered that he was not allowed to visit Disneyland. Khrushchev's visit culminated in a summit with President Eisenhower at Camp David, where negotiations were held on nuclear disarmament. At an impasse in the debate, President Eisenhower invited Khrushchev to visit his family farm, located just 18 miles from Camp David in Gettysburg, Pennsylvania, where the premier walked the historic grounds, saw Ike's cattle operation, and met the president's grandchildren. 
Though the negotiations ended in stalemate, President Eisenhower was nonetheless invited to conduct a similar tour of the Soviet Union the following year. This visit never happened; in May of 1960, an American U-2 spy plane was shot down over the Soviet Union, and its pilot captured alive, thus revealing the spying operation that the United States had been conducting. Relations between East and West soured. After sending Sputnik, the first satellite, into space, the Soviet Union had developed a ballistic missile program. In 1962, the world nearly plunged into nuclear war when some of these missiles were transported to Cuba, 90 miles off the American coastline. 
In part due to the collapse of relations between the Soviet Union and Communist China and the failure of his proposed agricultural reforms, Khrushchev was forced out of power in October of 1964, spending his remaining years as an outcast in Moscow and at his summer home.
Though he faded into obscurity, Nikita Khrushchev's legacy extends far past his own times. He fought his way up from the humblest of circumstances to the highest level of Soviet leadership by interminable guile and determination, only to be pushed out of the very party that he had helped to establish. He died in 1971, but the political reformations he led would set the stage for subsequent generations of Russian reformers as the age of the Soviet Union came to a close.
Last updated: October 21, 2020