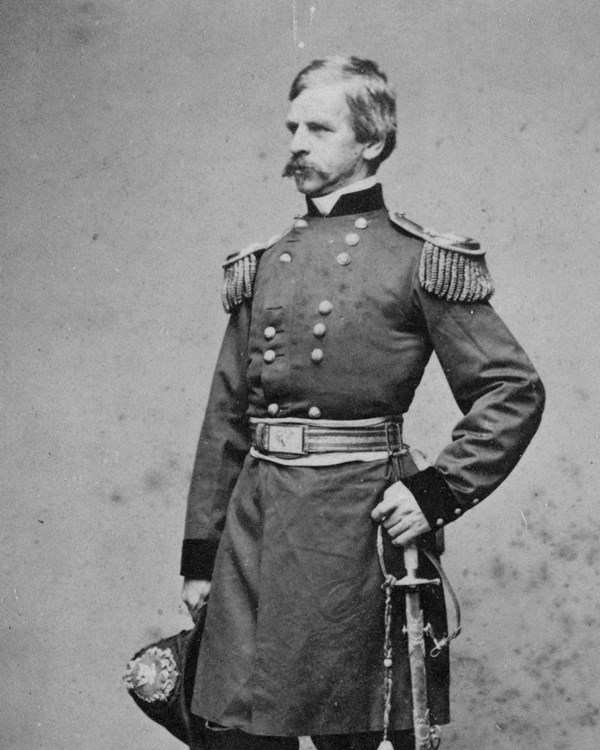 Significance:
Major General commanding the V Corps and II Corps of the Union Army of the Potomac
Place of Birth:
Waltham, MA
Date of Birth:
January 30, 1816
Place of Death:
Waltham, MA
Date of Death:
September 1, 1894
Place of Burial:
Waltham, MA
Cemetery Name:
Grove Hill Cemetery
Nathaniel P. Banks was a lifelong politician. When Civil War began in 1861 he was well regarded and respected as a former governor of Massachusetts. He was one of the first generals appointed by President Lincoln to command newly raised volunteer troops.
Shenandoah Valley
During the 1862 Peninsula Campaign, while McClellan advanced directly on the Confederate capitol at Richmond, Banks and the two divisions he commanded were given the task of preventing Confederate commander, Thomas "Stonewall" Jackson, from reinforcing the defenses of Richmond. Jackson met the challenge and successfully outmaneuvered and outfought not only Banks, but also the armies of Joseph Shields and John Freemont as well. Banks' sound defeat at the First Battle of Winchester would not be the last time he Banks faced Jackson in the field.
Peninsula to Maryland
Ten weeks later on August 9, Banks again met Jackson, this time at Cedar Mountain, in Culpeper County, Virginia. Though he gained an early advantage against Jackson, a Confederate counterattack by A.P. Hill pushed the advance of Bank's II Corps back. The subsequent arrival by the end of the day of additional elements of Pope's army as well as the remainder of Jackson's command resulted in a two-day stand-off and an indecisive outcome in which both sides claimed victory.
Banks played no significant role in the fighting at the Second Battle of Manassas and missed the Maryland Campaign altogether, sitting out the fighting as commander of the Military District of Washington.
In December of 1862 Banks was moved to New Orleans, Louisiana to take command of the Department of the Gulf. From New Orleans Banks traveled up the Mississippi River and launched an attack on Port Hudson, Louisiana in May 1863. Following the Fall of Vicksburg in July Port Hudson likewise surrendered. Following the Red River Campaign of 1864 Banks was removed from command and sent back to Washington, D.C. where he was placed on leave for the remainder of the war.
Last updated: July 13, 2022