Nathan G. Evans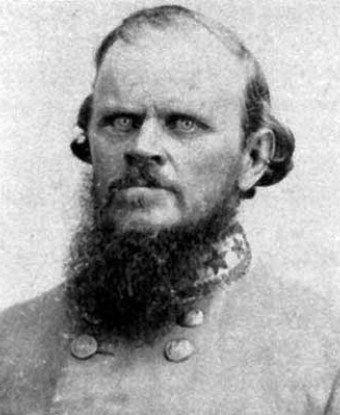 Quick Facts
Significance:

Confederate general

Place Of Birth:

Marion County, SC

Date Of Birth:

February 3, 1824

Place Of Death:

Midway, AL

Date Of Death:

November 23, 1868

Place Of Burial:

Cokesbury, SC

Cemetery Name:

Tabernacle Cemetery
A West Point graduate, Nathan George Evans had a promising start to his military career with service as a captain in the U.S. Army on the western frontier before resigning his commission and joining the Confederate army at the outbreak of the Civil War in 1861.

Upon enlisting, he was given immediate command of a brigade at the First Battle of Manassas, where his crafty maneuvering of troops prevented a flank attack by the Union army and earned him a promotion to brigadier general to rank from the date of the battle. Known as "Shanks," for his knock-kneed legs, Evans went on to participate in a number of battles including Ball's Bluff, Second Manassas, Antietam, and the Vicksburg Campaign.

His battle tactics made him a good general on the battlefield; however his difficult personality and love of alcohol and tended to get him in trouble (at First Manassas, he always had a Prussian orderly nearby with a gallon keg of whiskey, whom he affectionately referred to as his "barrelita"). Eventually his behavior and strained relationships resulted in two courts martial. Though cleared of all charges, serious injuries from a carriage accident in 1864 prevented Evans from ever returning to field command.

Assigned to the War Department in Richmond, at the end of the war April 1865, Evans joined Confederate President Jefferson Davis' entourage as it evacuated Richmond. Evans remained with Davis until the party reached his home in Cokesbury, South Carolina, where he surrendered to Union troops.

Evans spent the last years of his life as a high school principal in Midway, Alabama before his premature death at age 44 in 1868, likely from lingering effects of his wartime carriage accident. His son, John Gary Evans, would notably carry on the family name as the governor of South Carolina from 1894-1897.
Last updated: June 17, 2015