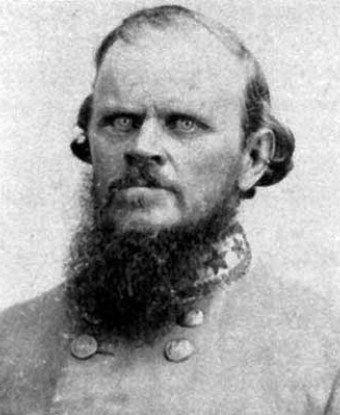 Significance:
Confederate general
Place of Birth:
Marion, South Carolina
Date of Birth:
February 3, 1824
Place of Death:
Midway, Alabama
Date of Death:
November 23, 1868
Place of Burial:
Cokesbury, South Carolina
Cemetery Name:
Tabernacle Cemetery
Nathan George Evans served in the US Army and then the Confederate States Army during the American Civil War. His ancestors emigrated from Wales to Pennsylvania in 1701, eventually settling in South Carolina in 1736. One of his ancestors rode with Francis Marion during the American Revolution and his older brother, Chesley, was a signer of South Carolina's Ordinance of Secession in 1860.
Evans graduated from Randolph-Macon College in Virginia before receiving an appointment to West Point in 1844 through the help of Senator John C. Calhoun. He graduated 36th of 38 in the class of 1848. It was there that he was dubbed "Shanks" because, according to his classmate and eventual Union General John C. Tidball, he was knock-kneed. He served on the frontier through the 1850's, eventually being promoted to captain and commanding Company H of the Second US Cavalry.
When South Carolina seceded, Evans resigned his commission and returned home. With the creation of the Confederacy, he became a major of cavalry in the Provisional Army of the Confederate States. On April 12, 1861, from a position on Sullivan's Island, he witnessed the firing on Fort Sumter and the outbreak of the Civil War. At First Manassas, as a temporary colonel, he recognized the threat to the Confederate left and his small brigade held back the numerically superior Union forces until reinforcements could arrive. For this action, he was rewarded with permanent rank as colonel and command of the Seventh Brigade of the Confederate Army of the Potomac.
The highlight of Evans' career came on October 21, 1861 at the Battle of Ball's Bluff near Leesburg, Virginia. Though not present on the field there, as he was in Leesburg evaluating the possibility of a second attack from another direction, he skillfully moved his troops to where they were most needed, finally inflicting a costly defeat on the Union forces. For this victory, he was promoted to brigadier general.
In December, Evans was transferred to South Carolina where his command skirmished occasionally with Union troops west of Charleston for the next few months. He was present, but not significantly involved, at the Battle of Secessionville in June 1862. In mid-July, he was given command of a South Carolina brigade and ordered to Richmond. He participated in the battles of Second Manassas and Antietam but, on November 6, was transferred to North Carolina. The remainder of the war was somewhat anti-climactic for Evans as alcohol and his irascible nature kept him in trouble with his superiors. He never again achieved the success or the acclaim he had earned at Ball's Bluff.
Heavily outnumbered, he directed the unsuccessful fighting at Kinston, NC on December 14, 1862, afterward becoming involved in a controversy about his order to burn the bridge there before all his men had retreated across it. Some 400 were captured and Evans was accused of having been drunk at the time. A hearing acquitted him and he returned to duty following which he and his "Tramp Brigade" were ordered west where he reported to General Joseph E. Johnston at Jackson, Mississippi.
With the fall of Vicksburg, Evans was ordered back to Charleston, arriving in late August 1863. It was not long, though, before he was embroiled in a personal dispute with his commanding officer, Brig. Gen. Roswell Ripley, which resulted in a court-martial. Again acquitted, he quickly became involved in yet another personal dispute, this time with General P.G.T. Beauregard.
On April 16, 1864, however, these all became moot as Evans suffered a serious head injury in a carriage accident in Charleston. He never again commanded troops in the field. His recovery took nearly a year by which time the Confederacy had collapsed. After the war, Evans became principal of a small school in Midway, Alabama. His head injury continued to cause problems, however, and contributed to his death on November 28, 1868.
Last updated: August 7, 2020