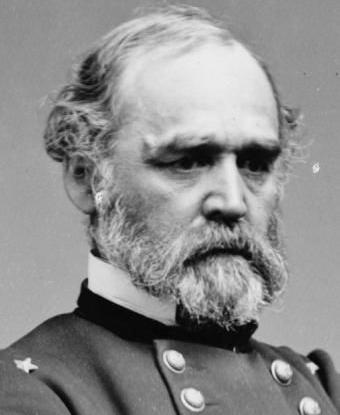 Significance:
Quartermaster General of the Union army
Place Of Birth:
Augusta, GA
Date Of Birth:
May 3, 1816
Place Of Death:
Washington, DC
Date Of Death:
January 2, 1892
Place Of Burial:
Arlington, VA
Cemetery Name:
Arlington National Cemetery
Like so many early 19th-century West Point graduates, Montgomery Cunningham Meigs spent the first decades of his army career overseeing the construction of a variety of coastal defense facilities and navigation aids. One such assignment took him to St. Louis, Missouri where he worked with fellow officer Robert E. Lee to improve access to that city's river boat landing.
Between 1852 and 1860, Meigs designed and supervised the construction of the Washington Aqueduct, a gravity-fed water delivery system for the city of Washington D.C. that is still in operation today. Also during this period, Meigs designed and supervised the construction of a new dome and larger wings for the U.S. Capitol. Soon after the Civil War began, Meigs was appointed Union Quartermaster General, a position he held throughout the war.
Meigs' honesty, determination and professional skill were legendary. Any number of Union victories can be ascribed to the efficiency with which his department procured and delivered vast amounts of war materiel over equally vast distances. Meigs is also remembered as the officer who, in his official capacity as army cemeteries superintendent, recommended Robert E. Lee's former estate at Arlington as a fitting resting place for hundreds of Union soldiers who died in the war, including Meigs own son First Lieutenant John Rodgers Meigs. Meigs himself would in Arlington National Cemetery as well upon his death in 1892.
Last updated: June 17, 2015