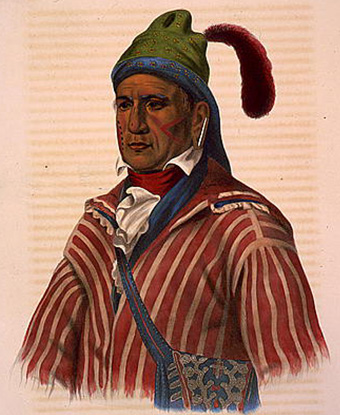 Significance:
Red Stick War Chief
Date of Death:
unknown (after 1836)
Menawa, a war chief from the Creek village of Okfuskee, led the Red Stick forces at the Battle of Horseshoe Bend, where nearly one thousand Creek warriors sought to defend themselves and their families from an American army led by Major General Andrew Jackson. During the battle, Menawa was wounded seven times. After the fighting ended, he revived during the night and managed to make his way to the river and float downstream in a canoe, where Creek women waiting for battle survivors rescued him.  
Prior to Horseshoe Bend, Menawa had achieved fame by attacking settlers in Tennessee's Cumberland region and taking horses, where he acquired the name Hothlepoya or "crazy war hunter."  By the time the Creek War erupted in 1813, he was one of the wealthiest Creeks in the region and operated a trading store. He was one of the few Red Stick chiefs to survive the war, and was fully reintegrated into Creek political life after the war. In 1825, he led a party of warriors appointed by the Creek National Council to execute William McIntosh for illegally ceding Creek land to the United States.  Ironically, McIntosh had led the National Creeks allied with the Americans against Menawa and the Red Stick Creeks at the Battle of Horseshoe Bend.
In the 1820s and early 1830s, as encroaching Americans poured into Creek county, harassing Creeks and attempting to force them from their homes, Menawa maintained peaceful relations with the United States, even assisting in suppressing a Creek insurgency which erupted in 1836. That war provided an excuse for the forced removal of the entire Creek nation, and Menawa, then around seventy years of age, and his people were moved west in late 1836.
Last updated: September 14, 2017