Person
Mehetable Garfield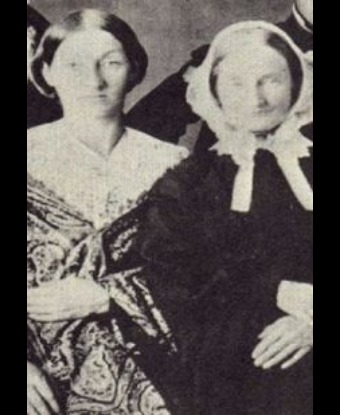 Significance:
Sister of President James A. Garfield
Place of Birth:
Newburgh (now Independence), Cuyahoga County, Ohio
Date of Birth:
January 28, 1821
Place of Death:
Boyle Heights, Los Angeles County, California
Date of Death:
June 6, 1911
Place of Burial:
Los Angeles, Los Angeles County, California
Cemetery Name:
Evergreen Cemetery
Mehetable Garfield was born January 28, 1821, in Newburgh (now Independence), Ohio, She was the oldest of the Garfield children. She was named for Eliza's mother and was always called Hitty (or Hittie). Not much is known about her early life, but she married Stephen Trowbridge on June 30, 1837 in Chagrin Falls, Ohio, at the age of 16. They lived in Solon where Stephen's father, Eli, was a prosperous farmer. Stephen was "attractive and bright - ready of speech but had a transparent honesty - a shiftless dreamer." There is mention of Stephen having taught at the school that James attended in 1848. However, for the most part he showed very little interest in supporting his family.  
The couple's first child was born when Hitty was 18. The Trowbridge children: Daughter Anna Eliza was born September 12, 1839. Mary Elvira was born March 4, 1842. Son Melvin Milton was born October 14. He was a soldier during the Civil War who enlisted on August 24, 1861 as a bugler with Company K , 2nd Ohio Calvary, lying about his age to get in. He enlisted, giving his age as 18 to get in. He was discharged for disability on June 20, 1862. Melvin reenlisted in Company E, 1st Michigan Engineers, became sick and died in a field hospital in Bridgeport, Alabama, March 11, 1864.  Alta Estella was born on September 11, 1860. 
 Hitty lived most of her hard life in Ohio, with her brother James helping her financially whenever he could.Her husband Stephen died March 9, 1893 and after his death, Mehetable was cared for by her daughter Anna Trowbridge Olds. In 1906, at age 85, Hitty and Anna moved to California - just a little north of sister-in-law Lucretia Garfield's winter home in South Pasadena. Mehetable died of chronic nephritis on June 6, 1911. Mehetable "Hitty" Trowbridge was buried at Evergreen Cemetery in Los Angeles.
 
Last updated: June 15, 2020