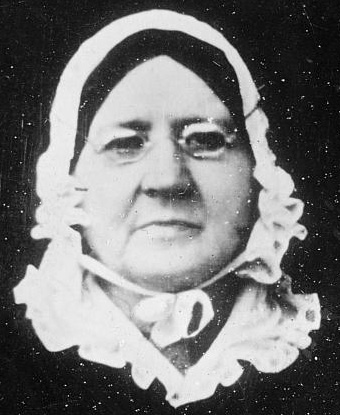 Place of Birth:
Philadelphia, Pennsylvania
Date of Birth:
February 12, 1776
Place of Death:
Baltimore, Maryland
Date of Death:
October 4, 1857
Mary Young Pickersgill was a gifted seamstress who carved a place for herself in history as the maker of one of America's great icons.
Mary Young was born in Philadelphia to William and Rebecca Young. Rebecca was a flag maker during the Revolutionary War, a profession and passion that she passed down to her daughter. Mary was married to Philadelphia merchant John Pickersgill in 1795, but widowed after 10 years of marriage at age 29, and eventually moved to Baltimore.
Following in the footsteps of her mother, also widowed young, Pickersgill opened a flag shop and catered to a military clientele. In 1813, as the city of Baltimore prepared for an eventual British attack, Major George Armistead, the commander of the militia unit stationed at Fort McHenry, wanted to order a flag. He called for an ensign "so large that the British will have no difficulty seeing it from a distance."
Commodore Joshua Barney recommended Mary Pickersgill as the ideal seamstress to create such a distinguished symbol. She was commissioned to make two flags: a 17 by 25 foot storm flag, and the stately banner that Armistead had envisioned, a 30 by 42 foot garrison flag.
This was a huge undertaking, one that Pickersgill could hardly complete on her own. She hired help from her daughter, two nieces, two free women of color, seamstresses of her community in Baltimore, and likely her elderly mother. Working late into the night, this team of women was able to complete the order in a short six weeks.
The garrison flag weighed 50 pounds and took nine men to hoist over Fort McHenry, but Armistead's wish for a flag that could be seen far in the distance was realized. Both Armistead's militia and Pickersgill's flag would be ready for the Battle of Baltimore, which came nearly a year later. As Congreve rockets streamed the sky in the attack on Fort McHenry, not only could the British see Pickersgill's flag, so could Francis Scott Key. Being held on a British ship in Baltimore Harbor miles from the fort, Key spotted Pickersgill's flag in the morning after an evening of bombing, and was inspired to pen a poem that would become the National Anthem.
The success that Pickersgill enjoyed as a businesswoman through her profitable flag making enterprise allowed her to purchase in 1820 the home she had been renting, and eventually to become an activist for women's social issues. She served as president of the Impartial Female Humane Society from 1828 to 1851, and championed causes such as providing housing and employment to disadvantaged women.
Although well-respected for her work in the community, Mary Pickersgill was known to all as the creator of the Star-Spangled Banner, and a living legend of the War of 1812. 
Last updated: October 10, 2019