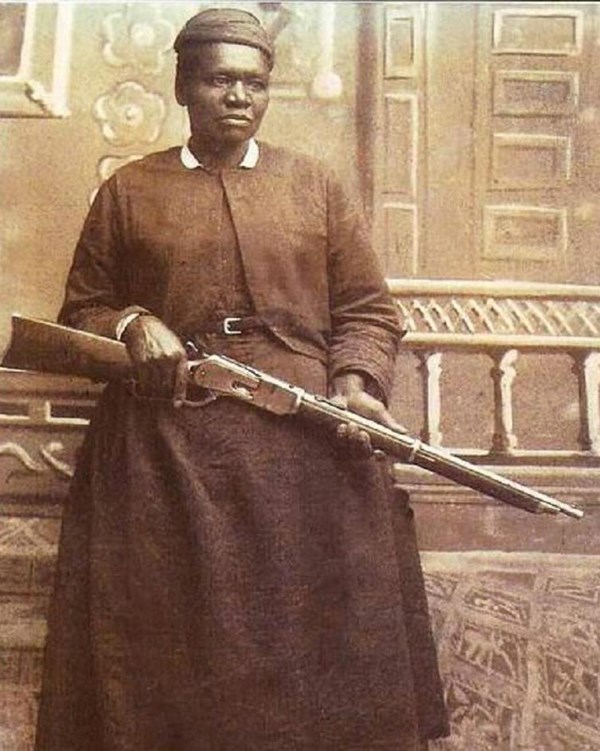 Significance:
First African American woman to work as a Star Route Carrier for the US Postal Service
Place of Birth:
Tennessee
Date of Birth:
Early 1830s (Exact date unknown)
Place of Death:
Cascade, Montana
Place of Burial:
St. Peter's Mission, Montana
Mary Fields enjoyed certain freedoms living on the western frontier, but she was never fully accepted due to her gender and the color of her skin. She lived most of her life on the fringe of different communities. 
Who tends to be excluded from society today? Why?
How are excluded groups treated by the majority?
What does this say about the dominant culture's values and priorities?    

There are many legends about Mary Fields, an African American pioneer in late 19th century Montana. These myths have been exaggerated in the century since her death, yet oral and written accounts describe her as one of the toughest, most resilient residents of Cascade, Montana.  
Born enslaved in Tennessee in the early 1830s, she lived in bondage until the end of the Civil War. After emancipation, Mary traveled around the southern United States, finding work on steamboats along the Mississippi River. She eventually made her way to an Ursuline convent in Toledo, Ohio.1  
As the lived experiences of enslaved people were seldom documented, we know little about Mary's early years. Most of what we know comes from the convent records in Toledo. According to Sister Kathleen Padden, archivist for Toledo's Ursuline Convent, Mary arrived in Toledo by train in 1870 and worked for the nuns at the convent, washing laundry, managing the kitchen, and maintaining the convent garden and grounds.  
During the years Mary lived at the convent, several of the nuns had departed Toledo for St. Peter's Mission in Montana, now a historic site listed on the National Register of Historic Places. Here the nuns ran a school for American Indian girls. We know that Mary moved to Montana in 1885, but she did not document why. Some secondary sources claim that Mary made the journey to St. Peter's to care for Mother Mary Amadeus, as the two women knew each other before their time at the convent – indeed, Mother Mary Amadeus was related by marriage to the family that had enslaved Mary Fields in Tennessee. It is likely that Mary relocated to St. Peter's Mission in Montana because the nuns needed more support running the school and the grounds.1 While Mary Fields was an important figure in running the daily operations at the mission, she was not full accepted as part of the community there.  
When Mary arrived in Montana in 1885, there were about 150 people living at the mission, including American Indian and white students as well as the staff.2 By cultivating a large garden and hunting game, Mary worked to ensure that all staff and students were fed. She also coordinated the delivery of supplies to the isolated mission. She lived on the property but refused to be paid for her work. Mary did not document why she refused wages – perhaps it was out of altruism. Whatever the reason, it gave her a new freedom – she could come and go as she pleased and accept other employment opportunities. Mary finally had control over her own labor.  
Mary had a complicated relationship with the leadership at the Mission. She did not adhere to the gender norms of the time. She dressed in male clothing and took on physically laborious jobs customarily done by men. About a year Mary's arrival at the mission, rumors spread in the nearby town of Cascade that she had engaged in a duel. The local bishop responsible for the mission banned her from St. Peter's. Both Mary and the nuns were upset by the news. Records indicate that while the nuns and Mary did not always agree; they had come to rely on each other.    
Leaving St. Peter's, Mary moved to the nearby town of Cascade where she was the only African American resident from 1886 through 1914. Her relationship with the other residents of town was complicated. Mary resisted racial stereotypes.  She refused to  take on work traditionally performed by Black women, such as working as a domestic servant in a white home. Instead, she found her own employment opportunities.  
In 1895, Mary obtained a contract to be a Star Route Carrier for the United States Post Office Department. A carrier was an independent contractor who used a stagecoach to deliver the mail. Mary's route ran between St. Peter's Mission and the town of Cascade. She delivered the mail for eight years without missing a day of work. Traversing the 34 mile round trip, Mary endured the harsh weather, bandits, and wolves of northern Montana. When the snow was too deep to drive the stagecoach, Mary trekked the route with snowshoes, delivering the mail on foot. Even though she was well into her 60s, Mary never let the hardships of the job prevent her from completing her route. She was the first African American woman and the second woman to receive a Star Route contract from the United States Post Office Department.2 
After retiring from her postal route, Mary established her own laundry business in town. She died in 1914 and is buried in Cascade.  
1. Due to the requirements of the Catholic Church, all Orders of Nuns are structured similarly, but each group was founded at a different time and place, making them each unique. The Ursuline community was founded in Italy by St. Angela Merici in 1535 in honor of St. Ursula. St. Angela believe nuns could live holy lives without living in a convent.
2. The first woman Star Route Carrier was Polly Martin, who drove a mail wagon from about 1860 to 1876 from Attleboro to South Attleboro, Massachusetts.

Bibliography:  
Garceau-Hagen, Dee. Portraits of Women in the American West. New York: Routledge, 2013.   
Liles, Deborah M. and Cecilia Gutierrez Venable, eds. Texas Women and Ranching: On the Range, at the Rodeo, and in their Communities. College Station: Texas A&M, 2019.   
McConnell, Miantae Metcalf. "Mary Fields's Road to Freedom." In Black Cowboys in the American West: On the Range, on the Stage, and Behind the Badge. Eds. Bruce A. Glasrud and Michael N. Searles. Norman, OK: University of Oklahoma, 2016.  
Nodjimbadem, Katie. "The Lesser-Known History of African American Cowboys." Smithsonian Magazine, Feb 13, 2017.  
Reindl, JC. "'Stagecoach Mary' Broke Barriers of Race and Gender." The Blade. February 8, 2010,  https://www.toledoblade.com/local/2010/02/08/Stagecoach-Mary-broke-barriers-of-race-gender.html.   
Wagner, Tricia Martineau. African American Women of the Old West. Guilford, CT: Twodot, 2007.   
"'Ask A Nun' Series," The Ursuline Sisters of Youngstown, Ohio. Accessed 12.30.20, https://www.theursulines.org/2011/01/27/what-makes-an-ursuline-sister-different-from-other-sisters/ 
"Women Mail Carriers," U.S. Postal Service. Accessed 12.30.20, https://about.usps.com/who-we-are/postal-history/women-carriers.pdf 

The content for this article was researched and written by Dr. Katherine Crawford-Lackey.
Last updated: August 6, 2021