Person
Maria Mitchell, Astronomer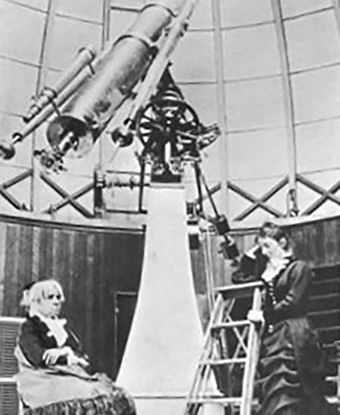 Significance:
First US Woman Astronomer; Discoverer of Miss Mitchell's Comet (C/1847 T1)
Place of Birth:
Nantucket, Massachusetts
Date of Birth:
August 1, 1818
Place of Death:
Lynn, Massachusetts
Date of Death:
June 28, 1889
Place of Burial:
Nantucket, Massachusetts
Cemetery Name:
Prospect Hill Cemetery
Maria Mitchell was born on August 1, 1818 in Nantucket, Massachusetts. Her parents were Quakers, and gave her an education of the same quality that boys got at that time. Early on, Maria taught in her father's school. At home, he taught her astronomy. At only twelve years old, Maria helped her father calculate exactly when a solar eclipse would occur.
In 1835, she opened her own school, allowing non-white students to attend -- a controversial decision in a community where the public school was segregated. In 1836, she took a job as the first librarian of the Nantucket Atheneum, a position she held for 20 years.
She continued her astronomical work at night, even after working all day at the Atheneum. On October 1, 1847 she discovered what became known as Miss Mitchell's Comet (Comet 1847 VI; now known as C/1847 T1). She received an award from King Frederick VI of Denmark as the first person to discover the comet, which brought her worldwide fame as the America's first professional astronomer who was a woman. She was only the third woman worldwide to discover a comet (the others were Caroline Herschel and Maria Margarethe Kirch, both German astronomers).
In 1848, she was the first woman elected as a Fellow of the American Academy of Arts and Sciences; in 1850, she became a Fellow of the American Association for the Advancement of Science. She was also elected to the American Philosophical Society in 1869, one of the first women to do so. Following her work at the Atheneum, she worked at the U.S. Nautical Almanac Office as an astronomer, calculating the positions of Venus in the heavens.
In 1865, Vassar College in Poughkeepsie, New York hired Maria Mitchell as faculty and as Director of the Vassar College Observatory (the oldest building on Vassar's campus). She discovered during her teaching career that, despite her qualifications, she was making less money than many younger, male professors. She insisted on an increase, and received it. She taught at Vassar College until she retired in 1888.
Following her retirement, one of her assistants, Mary W. Whitney, took over as Director of the Vassar College Observatory, a post she held until 1895. The next two directors were also women who could trace their academic lineage back to Maria Mitchell: Caroline Furness (Director from 1895-1936) and Maud Worcester Makemson (Director from 1936 to 1957). There have only been two subsequent directors since then, both men.
Maria Mitchell died on June 28, 1889. Her telescope is in the collections of the Smithsonian Museum of American History in Washington, DC.
Maria Mitchell was an early trail-blazer for women in the sciences, in higher education, and in pay equality.
Last updated: October 29, 2019