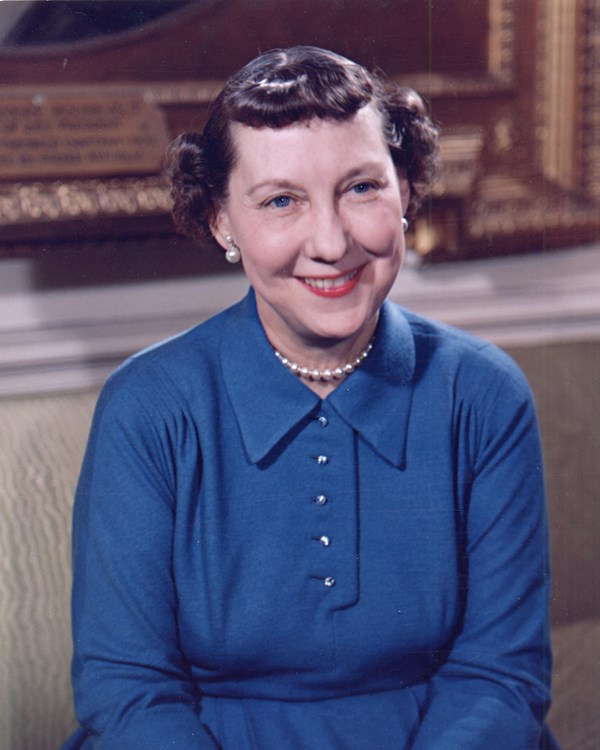 Significance:
First lady of the United States and wife of Dwight Eisenhower
Place of Birth:
Boone, Iowa
Date of Birth:
November 14, 1896
Place of Death:
Walter Reed Army Hospital, Washington, DC
Date of Death:
November 1, 1979
Place of Burial:
Abilene, Kansas
Cemetery Name:
Dwight D. Eisenhower Presidential Library
Mamie Eisenhower was born on November 14, 1896 in Boone, Iowa. Her father, John Sheldon Doud, owned and managed a meat packing plant. His business in Boone was so successful that he was able to retire at age thirty-six. He decided to relocate his family to Denver, Colorado. The affluent Doud family spent the winters in San Antonio, Texas.
The Doud family was a household of four girls. Mamie's mother was Elivera Carlson Doud.  The family lived in a large and comfortable house on Lafayette Street in Denver. The Doud daughters were raised with domestic help and had many opportunities in life. Mamie, like many young women of her social background, attended a finishing school. Her education prepared her for a desirable marriage and then as a social housewife who enhanced her husband's chosen career.
During the winter of 1915, Mamie, one of her sisters, and her mother were visiting the wife of an US Army major at Fort Sam Houston in San Antonio. During the visit, Mamie and her family met a handsome young second lieutenant who had recently graduated from West Point. The young man's name was Dwight David Eisenhower from Abilene, Kansas. Lieutenant Eisenhower was the officer of the day, and he asked Mamie to accompany him on his rounds. Eisenhower was smitten from that moment. 
For the next seven months, Lieutenant Eisenhower courted Mamie with charm and persistence. After only seven months, the nineteen-year-old Mamie and Dwight were married on July 1, 1916 at the Doud home in Denver. Mamie's father told her that she would have to live off army pay. After a brief trip to Abilene to visit Eisenhower's family, the newlyweds moved into Eisenhower's small quarters at Fort Sam Houston.
As an army wife, Mamie had to adjust to periods of separation from her husband. In time, she became very adept at budgeting Eisenhower's small paycheck. When Ike was home, she provided him with a relaxed and comfortable setting. The young couple had a reputation of being fun and entertaining.  With Mamie's finishing school background, she knew how to throw a good party especially for senior officers and their wives. Their modest quarters were always known as "Club Eisenhower." 
In addition to the hardship of a military wife, Mamie had to deal with personal tragedy. Their first child, Doud Dwight Eisenhower, also known as Icky, died of scarlet fever in 1920. Mamie and Ike were devastated over his death. 
Compared to most Americans, one advantage that Mamie had as a military wife was domestic and foreign travel.  The Eisenhowers spent time on the East and West Coasts plus in the South and Midwest. Internationally, the Eisenhower's traveled together to the Caribbean, Central America, South America, Asia, and Europe. Eventually when Mamie became first lady, she was probably the best traveled of all first ladies. 
Like all Americans on the homefront during World War II, Mamie had her challenges and difficulties. Ike's rapid rise in the ranks presented her with benefits and struggles. When Ike was promoted to the head of war planning in early 1942, the Eisenhower's were eligible for a colonial house at Fort Meyers across the Potomac River. However, when Ike received a promotion within a few months to commanding general in the European Theater of Operation, Mamie had one week to pack up again. When Ike became a household name, it was Mamie who had to endure the intrusive press corps with praise, criticism, and rumors. 
After the war, Mamie finally got to spend more time with Ike when he was the Army Chief of Staff, President of Columbia University, and the Supreme Commander of NATO. In 1952, she supported Ike's leap into politics and became an astute campaigner for him. 
With her experiences, Mamie made a smooth transition to first lady. She was an old fashion hostess of the White House. She was an effective manager of the White House budget, and she was loved by the White House staff. She was known for wearing pink and having her hair styled in bangs. She would state that "Ike was my career."
Like her husband, Mamie loved their home in Gettysburg, Pennslyvania. During the early days of the presidency, she took charge of the massive renovation to their Gettysburg farmhouse. The Eisenhowers spent many days during their presidential and thereafter retirement years enjoying the only home they ever owned. After Ike's death in 1969, Mamie chose to remain living on their farm for the rest of her life until she passed away in 1979. 
Mamie Eisenhower was an iconic First Lady and an influential figure in American history. Join Eisenhower NHS intern Annette Guild for this virtual program exploring how Mamie fulfilled the role of friend and First Lady throughout her life. This program was made possible in part thanks to the support of the Dwight D. Eisenhower Society.

Duration:

7 minutes, 14 seconds
Last updated: November 8, 2022