Person
Lawrence O'Brian Branch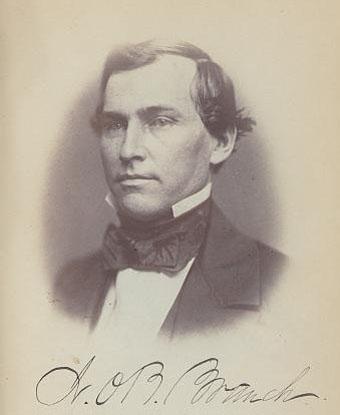 Significance:
Brigadier General Confederate Army of Northern Virginia
Place of Birth:
Enfield, Halifax County, NC
Date of Birth:
November 28, 1820
Place of Death:
Sharpsburg, MD
Date of Death:
September 17, 1862
Place of Burial:
Raleigh, NC
Cemetery Name:
Old City Cemetery
From the Peninsula to Maryland: Branch's role in the summer of 1862
Having strongly advocated for the secession of his native North Carolina, Branch quickly volunteered for military service in 1861. Originally serving as Quartermaster and Paymaster of North Carolina state troops, Branch was elevated to the position of brigadier general in January 1862 to fill the vacancy caused by the promotion of Daniel Harvey Hill. After resisting the advance of Burnside at the Battle of New Bern, Branch's brigade was transferred to Virginia, and attached to
A. P. Hill's Light Division in time for notable action in the Seven Days Battles.
Branch led his brigade in every subsequent action of the Northern Virginia and Maryland Campaigns in which Hill's division took part. He saw action at Cedar Mountain, Second Manassas (Bull Run), and Fairfax Court House. Throughout this bloody campaign, Branch reflected undaunted courage and the coolness of a veteran commander, winning the notice of many of his superiors.
He was detailed with Jackson to Harpers Ferry by Special Orders 191 and helped to capture the Union garrison. When Jackson and most of his men marched north counter McClellan, Branch remained in Harpers Ferry with A.P. Hill's Division until they received urgent notice to abandon the town and march north to meet the Federal troops advancing toward Sharpsburg.
Branch made the grueling 17 mile march to the Antietam battlefield from Harpers Ferry on the day of the battle. He arrived on the south end of the battlefield about 3:30 in the afternoon, just in time to meet Burnside's belated advance, which had broken the line of Jones' division and was rapidly gaining ground. Branch and the other brigades of Hill's division successfully turned back the attack of Burnside's corps. Soon after, as Hill and his three brigade commanders were consulting together, a sharpshooter sent a bullet crashing through the brain of General Branch. He fell, dying, into the arms of his staff-officer, Major Engelhard.
General Hill wrote of Branch: "The Confederacy has to mourn the loss of a gallant soldier and accomplished gentleman. He was my senior brigadier, and one to whom I could have entrusted the command of the division, with all confidence."
Branch was one of six generals to be killed or mortally wounded at the Battle of Antietam.
Last updated: January 12, 2022