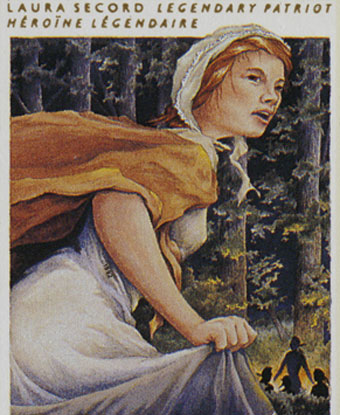 Significance:
Canadian Heroine
Place of Birth:
Great Barrington, Massachusetts
Date of Birth:
September 13, 1775
Place of Death:
Niagara Falls, Ontario
Date of Death:
October 17, 1868
Laura Ingersoll was born to Thomas Ingersoll and Elizabeth Dewey in Great Barrington, in the colonial province of Massachusetts. The Ingersolls had been in the colonies for generations, and Thomas fought with the American patriots during the Revolutionary War. In the economic depression following the war, he sought better opportunities for his family, and petitioned Canadian governor John Simcoe for a land grant. The grant was approved, and Ingersoll moved his family and 10 children, including Laura, up to Queenston, Ontario in 1795.
Queenston was a small and recently established community, populated by loyalists who fled colonial America during and after the Revolution. As more "late loyalists" like the Ingersolls began to arrive looking for land from the government, tensions increased among the settlers. The Ingersoll family eventually moved to York, but Laura remained in Queenston. She married wealthy shop owner James Secord in 1797, and moved with him to nearby St. Davids.
The Secords owned a shop in St. Davids and had five children between 1799 and 1810. When the war broke out in 1812, James served in the First Lincoln Militia under Isaac Brock. James fought and was wounded in the Battle of Queenston Heights in October 1812, prompting Laura to be called to his side on the battlefield, as was customary. According to legend, she arrived just as a group of American soldiers attempted to kill off this wounded militiaman, but Laura intervened and saved him.
But Laura Secord's most legendary contribution to the War of 1821 came a year later, in June 1813. While American officers were quartered in her home following the capture of Fort George in May, she overheard the American plan to surprise Lieutenant James Fitzgibbon's small army at Beaver Dams, about 20 miles from St. Davids. Laura took this information, and pretending to go visit a sick brother, sought out Lieutenant Fitzgibbon to inform him of the plan of attack. Laura exited the American-occupied territory and walked 20 miles to warn the army. Now aware of and able to anticipate the American attack, Fitzgibbon launched a preemptive ambush as they arrived the next day, protecting the Canadian army and capturing 500 American prisoners.
Laura Secord's role in the War of 1812 was never formally celebrated in her lifetime. Following the end of the war, Laura and James had two more children, but had little income with their store destroyed. James eventually found work as a clerk and judge, but were never able to return to their pre-war affluence.
James died in 1841, leaving Laura destitute to move in with her daughters. She lived another 27 years, passing away at the age of 93 in 1868.
After her death, Laura Secord's story of Canadian patriotism began to gain prominence, especially in the late 1800s with the women's suffrage movement . As her story was revealed, she became enshrined in Canadian lore as a heroine who navigated dangerous enemy terrain for her love of Canada. Today, her home in Queenston is a Niagara Parks site, and a monument to her is erected in Queenston Heights. 
Last updated: June 18, 2015