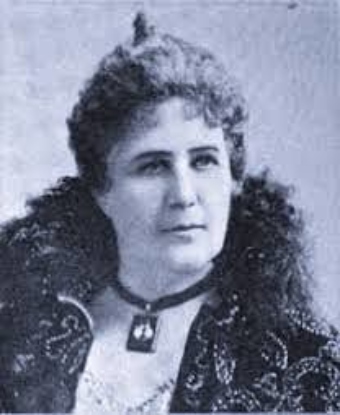 Significance:
A prominent activist in the early 1900's who had a significant role in the preservation of Muir Woods.
Place of Birth:
French Lick, Indiana
Date of Birth:
April 12th, 1839
Place of Death:
San Francisco, CA
Date of Death:
January 18th, 1916
Place of Burial:
Colma, CA
Cemetery Name:
Woodlawn Memorial Park
Many popular stories only focus on the most prominent leaders, and leave out the crucial people who work behind the scenes. At Muir Woods, that crucial, yet overlooked person is Laura Lyon White. She was a powerful woman with a large influence over the preservation movement in the San Francisco Bay Area. Laura was an activist in many areas. She fought for women's suffrage, juvenile justice reform, the creation of public playgrounds, improved sewer systems, and more. She was also a towering figure in the preservation movement.

Early Life
Laura Lyon was born in French Lick, Indiana to an affluent family. As a teenager, she was described as "unruly, adventurous, [and] independent". A fitting description for a young woman who attended Oberlin College at a time when women rarely went to college. She met Lovell White in 1857 and married him the following year. Together the couple set up a general store in the Sierra Nevada foothills. They watched hydraulic mining destroy the beautiful scenery and create environmental hazards. Laura bore two children there, but lost both to scarlet fever. She blamed the unsafe conditions and began to write about our threatened environment.

Beginnings Of Activism 
After Lovell accepted a position at a bank in San Francisco, Laura kicked her activism up a notch. In just 6 years she founded clubs and campaigns to promote many causes. She founded the California Club where women could unite to bring about change.  Laura left the California Club in 1902, but the club continued its important work. In 1904, the California Club launched one of the first campaigns to protect Muir Woods. Laura's work with the California Club increased public support. Without such support, there's a good chance the canyon never would have been preserved.

Laura's Connection To Muir Woods
Laura also saved Muir Woods by making sure the price was low enough for nature enthusiasts to afford. According to family lore, Laura Lyon White made a bargain with her husband, Lovell. If he would financially support her causes ̶ like preserving a beautiful old growth forest ̶ she would have another child. After the Whites moved to San Francisco, Laura bore a son. Lovell became the director of the company that owned Redwood Canyon. As he looked for a buyer, the North Coast Water Company offered to buy the land for $110,000 (today approximately $3.2 million). The company was going to log the forest and dam Redwood Creek. Instead of accepting the offer, Lovell sought out William Kent, a local conservationist. Lovell sold the land to Kent for the reduced price of $45,000 to save the redwoods. If family lore is correct, then Laura was the force behind this price drop!

The Context Of Laura's Life
Laura was attempting to create change in a time of divisive politics, harsh race relations, and battles over gender equality. When the Whites moved to San Francisco in 1864, the Civil War was raging in the East. Anti-Asian laws were passed such as the Chinese Exclusion Act of 1882. In 1915, the Ku Klux Klan resurfaced, reaching its peak membership in 1924 with around 1.5 to 4 million members. Women's suffrage, eugenics, prohibition, conservation, and anti-Asian sentiment swirled around in a complex cocktail. While many Americans held great hopes for better days, others feared our best days lay behind us.
How did White manage to make a positive difference in a political environment so steeped in controversy? Like any good politician, she picked her battles.Throughout her successful career, she had a tendency to sidestep controversial issues. A good clue may be looking at other controversies she was involved in: would she take the unpopular, morally stringent position, or avoid it? In 1910, White was re-elected President of the California Club. As the President, she turned the club away from taking a side on the issue of building a dam in Yosemite National Park's Hetch Hetchy Valley. While she personally opposed the dam, it was a divisive issue within the club. 
One of the most telling examples was during her tenure as the President of the California Club. The club had joined a network of women's clubs, the General Federation of Women's Clubs (GFWC). In 1902, the GFWC provoked controversy at its annual convention when it refused to welcome Josephine St. Pierre Ruffin. Josephine was a suffragist from Boston and was the delegate from an all-Black Woman's club. The GFWC leadership were mostly Southern White women. They allowed integrated clubs, but they insisted on excluding all-Black clubs. This decision led to conflict within the GFWC as clubs voted on whether to support this discriminatory policy. Members of the California Club voted to allow Black women's clubs to join. Laura Lyon White, club president at the time, opposed integrating the GFWC. She resigned her role rather than represent a club that voted for inclusion. 
"Those who have been so ambitious to admit colored women are fanatics and visionaries, and that the change in the regulations governing qualifications for membership will only result in a disruption of many clubs." - Laura Lyon White
We'll never know why she was so adamantly opposed. She may have been overtly racist and didn't believe that Black women's clubs belonged in the network. National networks of White women's clubs typically prioritized the interests of Southern White women over Black women. While racism was not exclusively a Southern problem, many GFWC leaders were concerned about the unity of the network. They believed if they allowed Black women's clubs to join, White women's clubs in the south would leave. This would decrease the GFWC's overall power and diminish its effectiveness. Regardless of her intent, her actions harmed women of color and continued racist practices.  
Laura White had an extremely successful career lobbying politicians and creating change. She contributed to the creation of Muir Woods in a profound way. Without her leadership, there would be a little less beauty in the world. We are still benefiting from many of the changes she fought for, from sewage systems, to playgrounds, to parks. However, the process of creating those things was not always equal and fair to everyone. Over 100 years later, society is still benefiting and struggling with the issues in which she engaged. We both thank Laura Lyon White for her accomplishments and recognize her as a complex historical figure.
Last updated: July 26, 2022